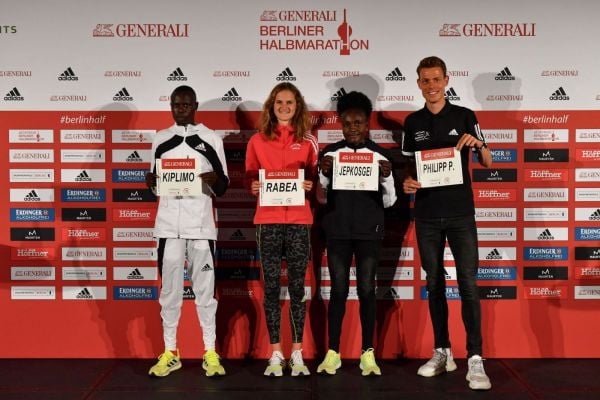 The GENERALI BERLIN HALF MARATHON will be Germany's first major international road race since the start of the coronavirus pandemic. World-class fields will feature the former world half marathon record holder Joyciline Jepkosgei and fellow-Kenyan Philemon Kiplimo. A total of 21,546 athletes from 140 countries have entered Sunday's race. 20,774 of them will run the half marathon distance. The GENERALI BERLIN HALF MARATHON will be the first road race this year worldwide to feature around 20,000 participants.
Originally scheduled to take place in April 2019 the 40th edition of the GENERALI BERLIN HALF MARATHON had to be cancelled again this spring because of the coronavirus pandemic. With a hygiene concept in place and after extensive consultations with the local authorities the race finally got the go ahead. "There was very good cooperation with the city so that we can now start the race," said Jürgen Lock, managing director of organizer SCC EVENTS. Participants have to be either vaccinated, have antibodies or need to provide a negative test to be able to participate in the GENERALI BERLIN HALF MARATHON. Organizers also offer the possibility to take a test in Berlin. Spectators are advised to keep the minimum distance and to wear face masks. "This has worked very well at our recent 10 k race, the City Night," said Jürgen Lock.
Watch Genearli Berlin Half Marathon Live
The women's race
Never before has there been such a strong elite women's field in the history of the GENERALI BERLIN HALF MARATHON. There are four athletes on the start list who feature personal bests of sub 67:00. For the first time a runner will compete who has broken the world record at this distance: Joyciline Jepkosgei is the major favourite. The Kenyan has broken the world half marathon record on two occasions and in 2017 became the first female runner to record a time of sub 65 minutes. She ran 64:52 in Prague four years ago and then improved this record by one second in Valencia. With her personal best of 64:51 Joyciline Jepkosgei currently is the fifth fastest half marathon runner ever and the fastest ever entered in the Berlin race. "I thank the organizers to make it possible for me to compete here. It is not an easy time for all of us," said the 27 year-old current New York Marathon champion. "I ran my last international race eight months ago. But I am ready and I will do my best."
Kenya's Valary Aiyabei, Helen Tola and fellow-Ethiopian Bekelech Gudeta are the other three runners who have PBs of sub 67:00. Valary Aiyabei features a strong personal best of 66:14 which she achieved in the Ras Al Khaimah (UAE) race in 2019. Later that year she broke the course record of the Frankfurt Marathon with a time of 2:19:10. Ethiopia's Helen Tola improved to 66:45 two years ago in the Istanbul Half Marathon where she finished third. Fellow-Ethiopian Bekelech Gudeta showed excellent form in this Turkish race as well, when she improved to 66:54 this spring.
Despite the strength in depth it will not be an easy task to achieve a time in the region of the course record on Sunday. Sifan Hassan (Netherlands) established this mark two years ago with a superb 65:45.
Berlin's Rabea Schöneborn - twin sister of Deborah Schöneborn, who achieved a fine 18th place in the Olympic marathon - is the fastest German athlete entered. The 27 year-old intends to improve her personal best of 71:40.
The men's race
The men's leading group will aim for the course record on Sunday. It was Kenya's Eric Kiptanui who clocked 58:42 in Berlin three years ago. "It is my goal to break this course record," said 22 year-old Philemon Kiplimo, who became the sixth fastest runner ever in the half marathon when he ran 58:11 in Valencia in December last year. "I have prepared for two months for this race and I am ready."
Two other Kenyans are on the start list who feature personal bests of sub one hour. Among them is the athlete who heads the current world list: Felix Kipkoech clocked the fastest time in 2021 when he won the Siena Half Marathon in Italy with 59:35 in February. That mark could well fall in Berlin. Josphat Tanui has run slightly faster with a PB of 59:22. He ran this time in 2017 in the Czech city of Usti nad Labem on a course which is not regarded as particularly fast.
Philipp Pflieger and Tom Gröschel are two prominent German marathon runners. For them it will be the goal to improve their personal bests of 62:50 and 64:09 respectively.
"I believe we have assembled fine fields. If weather conditions will be suitable we should see fast times and hopefully get a course record in the men's race," said Race Director Mark Milde.
Selected elite runners and personal bests
MEN
Philemon Kiplimo KEN 58:11
Josphat Tanui KEN 59:22
Felix Kipkoech KEN 59:35
Timothy Kosgei KEN 60:47
David Nilsson SWE 61:40
Bernard Wambua KEN 61:55
Raymond Magut KEN 62:11
Berhe Solomun Ejob ERI 62:15
Ayala Gashau ISR 62:39
Philipp Pflieger GER 62:50
Godadaw Belachew ISR 63:07
Abraham Filmon GER 63:39
Tesfay Felfele ERI 63:46
Tom Gröschel GER 64:09
WOMEN
Joyciline Jepkosgei KEN 64:51
Valary Aiyabei KEN 66:14
Helen Tola ETH 66:45
Bekelech Gudeta ETH 66:54
Nancy Jelagat Meto KEN 68:24
Medhin Gebrselassie ETH 68:38
Bezabeh FitawETH70:31
Nigsti Haftu ETH 70:17
Izabela Paszkiewicz POL 70:52
Nina Lauwaert BEL 71:33
Rabea Schöneborn GER 71:40
Iwona Bernardelli POL 72:40
Agnes Ngolo KEN Debüt
More information is available online at: www.generali-berliner-halbmarathon.de
-->