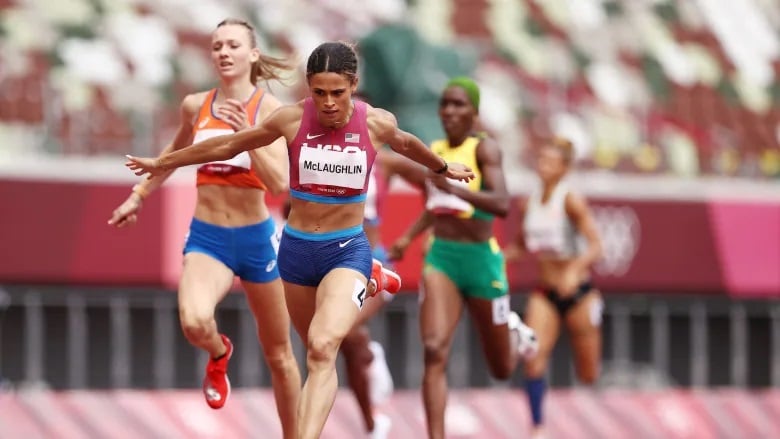 Tokyo Olympic day six report: Sydney McLaughlin broke her own world record in the women's 400m hurdles with a sensational time of 51.46 to win the Olympic title in Tokyo. Just one day before Karsten Warholm smashed the world record in the men's 400m hurdles with 45.94 beating Raj Benjamin, who set the US record and the second fastest time in history with 46.17.
Sydney McLaughlin: "What a great race. I am just grateful to be out celebrating that extraordinary race and representing my country. I saw Dalilah ahead of me with one hurdle to go. I just thought 'Run your race'. The race doesn't really start until hurdle 7. I just wanted to go out there and give it everything I had. I can't get it straight in my head yet. I am sure I will process it and celebrate today",
Dalilah Muhammad won the silver medal in 51.58, also running under the previous world record of 51.90 set by McLaughlin six weeks ago at the US Trials in Eugene, where Muhammad finished second with 52.42.
Dalilah Muhammad: "I have had an amazing year and to finish with 51.58, shattering my personal best., is absolutely amazing. Just like the men's race, all three of our times would have won any Olympics. I am so proud to be part of that history and even more proud of my teammate Sydney. I am just happy it's a one-two final for the USA, and today I am happy with second".
Femke Bol from the Netherlands set the European record clocking 52.03, the fourth fastest ever in the world.
Janieve Russell finished fourth in 53.08 setting the fastest ever time for a fourth place. Ukrainian hurdlers Anna Rhyzykova and Viktoriya Tkachuk also dipped under the 54 seconds barrier by clocking 53.48 and 53.79 respectively.
Two years ago Muhammad won the world title in a world record time of 52.16 beating McLaughlin, who clocked 52.23.
Muhammad built up a narrow lead on the backstraight and held a close margin over McLaughlin, who attacked at the 10th hurdle and edged ahead of Muhammad to claim her first Olympic gold medal in 51.46.
Men's 200 metres final:
André De Grasse from Canada claimed his first Olympic 200m gold medal and the fifth medal of his career at this event improving the national record to 19.62. Five years ago De Grasse finished second behind Usain Bolt in the 200m and won two bronze medals in Rio de Janeiro. At this year's editions of the Olympic Games the Canadian sprinter won the bronze in the 100m.
De Grasse pulled ahead in the final 50 metres to take the win.
André De Grasse: "I did it. I have been waiting for this moment. I have been training hard for this moment. I went back after the 100m and I was a little bit disappointed. I could have done better. I said: 'I have got to go and get this 200m. My coach told me I have got to go hard on the bend. I have got to stay with Kenny on the turn. He has a magnificent turn. Once you get off that turn, just relax and flow. That's what you are good at. Just try to stay loose, stay relaxed, keep pumping your arms and finish strong".
Kenny Bednarek smashed his PB to 19.68 to win the silver medal ahead of Noah Lyles, who equalled his seasonal best with 19.74. World Under 20 record holder Erriyon Knighton finished fourth with 19.93 ahead of Joseph Fahnbulleh from Liberia, who set the national record with 19.98. At last June's US Trials Knighton set a World Under 18 record with 20.04 in the heats and broke Usain Bolt's world under 20 record to 19.88 in the semifinals before improving this time again to 19.84 in the final.
Kenny Bednarek: "All my hard work has paid off. I was leading the race and was hoping to come out with the gold but first time being an Olympian, first time running the 200m, and first time making a siiver medal, I am happy with my performance".
Men's 800 metres:
Emmanuel Korir won a tactical 800m final in 1:45.07 in a dramatic sprint in the final straight holding off his compatriot Ferguson Rotich Cheruiyot (1:45.23), who edged European Indoor champion Patryk Dobek (1:45.39) in the final metres. Peter Bol from Australia, who set the Oceanian record to 1:44.11 in the semifinal, finished fourth in 1:45.92 ahead of Adrian Ben from Spain (1:45.96) and Amel Tuka from Bosnia Herzegovina (1:45.98).
Korir has followed in the footsteps of his compatriot David Rudisha, who won the past two editions of the Olympic Games in London 2012 and Rio de Janeiro 2016. Korir and Rotich achieved the first Kenyan double since Barcelona 1992, when William Tanui and Nix Kiprotich won gold and silver.
Korir finished sixth in final in the 400m at the 2019 World Championships in Doha and has a PB of 44.21 in the one-lap race, but he missed out on reaching the final in the 800m in the past two editions of the World Championships. Korir has followed in the footsteps of his coach Paul Ereng, who won the Olympic title in the 800m in Seoul 1988.
Emmanuel Korir: "I don't know what to say, just thanks to God. This is a big thing for me after failing to qualify for two world finals in 2017 and 2019. Today is my day. I did not have any strategy. I just thought I would try to follow and see what would happen. There was nobody who wanted to take the pace, so I just said I was going to control it. The Australian guy, Bol, did something good for me".
Men's hammer throw:
Wojciech Nowicki won his first Olympic gold medal in the men's hammer throw improving his PB to 82.52m. Elvind Henriksen produced a major upset by taking the silver medal with a national record of 81.58m in the fifth round. Four-time world champion Pawel Fajdek claimed the first olympic medal of his career by finishing third with 81.53m. In a high-quality competition 20-year-old Mykhaylo Kokhan from the Ukraine finished fourth with 80.39m. Frenchman Quentin Bigot finished fifth with 79.39m ahead of Commonwealth champion Nick Miller (78.15m).
Nowicki took the early lead with 81.18m. Henriksen set the national record of 79.18m. Nowicki extended his lead in the second round with 81.72m. Kokhan threw over the 80 metres barrier with 80.39m to take the second place.
Nowicki broke his lifetime best by 87 cm to 82.52m in the third round. Henriksen threw over the 80m barrier for the first time in his career with 80.31m.
Fajdek pulled out a throw of 81.53m in the fifth round, his best performance at a global championships since the 2013 World Championships in Moscow.
Wojciech Nowicki: "I did not expect but I was very well prepared. It was the best competition of my whole career and I am very happy. It's a dream for the two to be on the podium".
Women's 3000 metres steeplechase:
Peruth Chemutai from Uganda won a surprising Olympic gold medal in the women's 3000m steeplechase improving the national record to 9:01.45. Chemutai finished fifth at the 2019 World Championships in Doha and fifth at the World Cross Championships while she was still a teenager.
US Courtney Frerichs claimed the silver medal in her seasonal best of 9:04.79 four years after her second place at the 2017 World Championships in London. Former world champion Hyvin Kyeng finished third with 9:05.39.
Frerichs pulled away with two laps to go to build up a five metres gap on Chemutai. Frerichs went through at 7:51 at the bell, but Chemutai started to close the gap and caught up with the US runner and took the lead with 250 metres to go. The Ugandan runner pulled away to win the Olympic title in 9:01.45. Chemutai won the world under 20 silver medal in 2018 and finished fifth at the 2019 World Cross Country Championships in Ahrus.
Peruth Jemutai: "I am so happy. It is such a surprise. I was still so young in Rio and I did not make the final".
Ethiopian record holder Mekides Abebe finished fourth in 9:06.16 ahead of two-time world medallist Gesa Felicitas Krause, who finished fifth in 9:14.00, and Marusa Mismas Zrimsek, who improved her Slovenian record to 9:14.84. World champion and record holder Beatrice Chepkoech crossed the finish-line in seventh place in 9:16.33 to beat Ethiopian teenager Zerfe Wondemagegn, (9:16.41), Elizabeth Bird, who broke the British record with 9:19.68, and Winfred Yavi Mutile (9:19.74).
Men's decathlon:
Damian Warner from Canada lead the overnight standing in the men's decathlon with 4472 points ahead of world under 20 champion Ashleigh Moloney from Australia (4722) and Pierce LePage from Canada (4529), World record holder Kevin Mayer from France sits in fifth place with 4350.
Canadiam decathletes Damian Warner and Pierce LePage held the first two spots after the first three events. Warner equalled his world decathlon best time in the 100m with 10.12 before leaping to 8.24m in the long jump, a distance that would have earned the bronze medal in the individual event. Warner, who won the Hypo Meeting in Goetzis for the sixth time in his career last May, produced a best put of 14.80m in the shot put to bring his tally to 2996 points.
Warner's compatriot Pierce LePage improved his PB to 15.31m in the shot put to take the second place in the overall standing with 2773 points after three events ahead of Australia's Ashleigh Moloney (2741 points) and world record holder Kevin Mayer (2662). Warner cleared 2.02m in the high jump and finished third in the 400m with 47.48 to end the first lead ahead of Moloney, who won the 400m in his seasonal best of 46.29. LePage improved his lifetime best in the 400m to 46.92.
Women's heptathlon:
Dutchwoman Anouk Vetter leads the heptathlon standings with 3968 points ahead of Belgians Noor Vidts (3941) and reigning Olympic champion Nafissatou Thiam (3921).
Thiam held the overall lead with 2176 points after clearing 1.92m in the high jump. US Erica Bougard clocked 13.14 in the 100m hurdles and cleared 1.86m in the high jump to take the second place with 2157 points. World champion Katarina Johnson Thompson, who made her come-back this summer after tearing her Achilles tendon, took third place with 2138 after 13.27 in the the 100m hurdles and 1.86m in the high jump.
Thiam led with 3025 points after producing a best release of 14.82m in the shot put. Anouk Vetter finished second with 15.29m to move up into second place with 2969 points. Vidts took third place with 2931 points after improving her PB to 14.29m.
Vetter clocked 23.81 in the 200m to move into overnight leading position with 3968 points ahead of Vidts, who set her PB to 23.70. Thiam clocked 24.90 to end the first day in third place.
Katarina Johnson Thompson has pulled out from the heptathlon with a calf infury that caused her to pull up in the 200m. She got up to finish the race but she was disqualified for leaving her lane.
Men's 110m hurdles semifinals:
World champion Grant Holloway easily advanced to the 110m hurdles final by clocking 13.13, the fastest time of the three semifinals. Devon Allen won the second semifinal in 13.18.
Women's 400 metres semifinals:
Marileidy Paulino won the first semifinal in an impressive national record of 49.38 pushing three more women under the 50 seconds barrier. Candice McLeod broke the 50 seconds barrier for the first time in her career with 49.51. Roxana Gomez from Cuba finished third with 49.71 ahead of US Open champion Quanera Hayes (49.81).
Reigning olympic 400m champion Shaunae Miller Uibo won the second heat with 49.60 beating Jodie Williams, who smashed the 50 seconds barrier for the first time in her carrier with her lifetime best of 49.97.
This year's Jamaican Trials champion Stephanie Ann McPherson claimed the third semifinal improving her PB to 49.34. Allyson Felix got through to the final in her fifth appearance at the Olympic Games by finishing second with her seasonal best of 49.39. Sada Williams from Barbados set the national record with 50.11 but it was not enough to advance to the final.
Women's 1500 metres semifinals:
Reigning Olympic champion Faith Kipyegon won the first semifinal in a very fast 3:56.80 ahead of Frewenyi Gebreezibeher (3:57.54) and Gabriela Debues Stafford (3:58.03). Jessica Hull from Australia and Nozomi Tanaka from Japan set national records with 3:58.81 and 3:59.19 respectively.
Fresh 5000m olympic champion Sifan Hassan won the second semifinal in 4:00.23 ahead of European champion Laura Muir from Great Britain (4:00.73) and Linen Hall from Australia (4:01.73).
Men's javelin throw qualifying round:
Johannes Vetter was ranked sixth after two rounds, but he produced a throw of 85.64m in his final attempt to advance to the final.
India's Neeraj Chopra led the qualifying round with 86.65m. Arshad Nadeem pulled out a throw of 85.16m to become the first athlete from Pakistan to reach an Olympic final in athletics. Reigning world champion Anderson Peters and 2012 Olympic champion Keshorn Walcott did not get through to the final.
Women's 400m hurdles final results: Tokyo 2020 Olympic games
| | | | | |
| --- | --- | --- | --- | --- |
| 1 | McLAUGHLIN Sydney | | 51.46 | WR |
| 2 | MUHAMMAD Dalilah | | 51.58 | PB |
| 3 | BOL Femke | | 52.03 | AR |
| 4 | RUSSELL Janieve | | 53.08 | PB |
| 5 | RYZHYKOVA Anna | | 53.48 | |
| 6 | TKACHUK Viktoriya | | 53.79 | PB |
| 7 | WOODRUFF Gianna | PAN | 55.84 | |
| | COCKRELL Anna | | DQ | TR 17.3.1 |
-->