• 4 Things to Prioritize When Shopping for Running Shoes

Posted by:
Watch Athletics
Saturday, 03 July 2021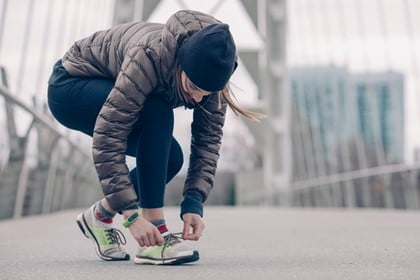 Not all running shoes are created equal. Even if you only go running occasionally, the right shoes will make the difference between a productive run and a painful experience.
Most people choose a new pair of shoes based on the brand or style alone, but this isn't in your best interest if you plan to get any serious exercise in your new shoes. Keep the following four factors in mind when shopping for running shoes, and you'll bring home a pair that supports you through every mile.
1. Foot Lockdown
If you're not familiar with the specifics of running shoes, you probably have never heard of the term lockdown about sneakers. However, this is a word you'll want to get familiar with.
Foot lockdown simply refers to the shoe "locking down" over your navicular bone, holding your foot in place without moving too much inside of the shoe itself. Too much movement and the shifting and rubbing of your shoes can cause pain.
While you want to avoid shoes that are too tight, getting a pair with less than ideal "lockdown" means you're more likely to get painful blisters, bruised toes, and even missing toenails.
We recommend reading reviews from experts and see what they have to say about their favorite running shoes for lockdown. For example, you'll read that the Mizuno Wave Rider 25 is known for a comfortable, snug fit without floating.
2. Heel-to-Toe Drop
Also referred to as a "drop" or "differential," a heel-to-toe drop refers to the length between the toe of the shoe and the heel. These are measured in millimeters, with typical running sneakers having a heel-to-toe drop of 10-12 millimeters.
The higher the drop, the more you will land with your heel. If you opt for a running shoe that is considered low-drop (about 4-6 millimeter), you land more with your forefoot or midfoot, which causes pain.
3. Cushioning
There are two types of cushioning in running shoes, which are plush and responsive:
Plush cushioning refers to a softer, more absorbent impact. This results in a more comfortable shoe. However, since the cushioning absorbs most of your impact, you won't go very fast.

Responsive cushioning, on the other hand, enables you to go faster by having a harder impact.

As a result, you will

push off the surface with more force, which is best when you want to run faster.
One of these types isn't better than the other. You want to make a decision based on the type of running you will be doing. Go with responsive if you're a sprinter and plush if you're a steady jogger.
4. Size
Yes, knowing what size shoe you are is an obvious way to ensure that your chosen shoes will fit properly. However, you'd be surprised how many people make the mistake of assuming their feet stay the same size throughout the day. In reality, our feet start swelling during the morning and continue to do so until the evening.
With this in mind, shoe shopping later on in the day rather than early in the morning can help you avoid accidentally buying running shoes that are too small. You want to be able to allow your feet enough room to be comfortable so you can get the most out of your run.
Final Thoughts
Running shoes can be stylish and supportive at the same time. As long as you are conscious of the shoe's sizing, cushioning, foot lockdown, and heel-toe-drop, you'll be more likely to take home a pair that's as comfortable as possible.
We recommend planning extra time to try on shoes and consult with a store employee. This way, you make sure someone is standing nearby to answer questions about a brand's shoe design.