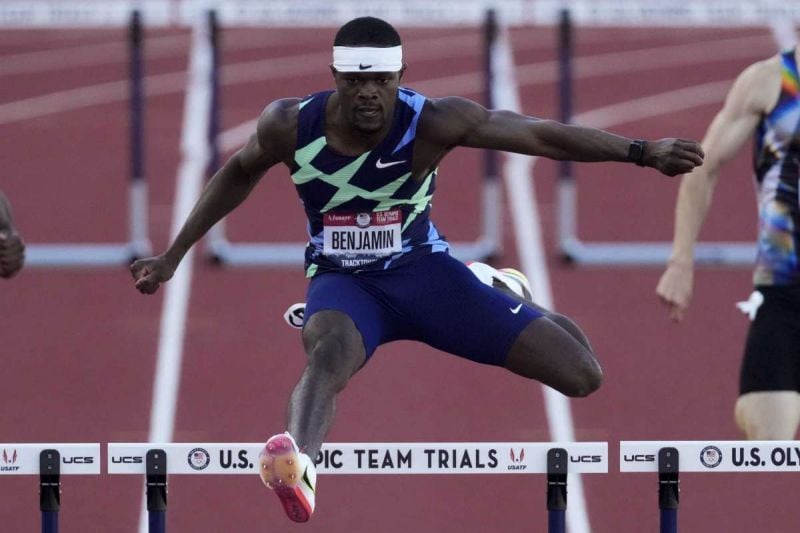 Rai Benjamin and Grant Holloway came very close to break the 400m hurdles and 110m hurdles World records respectively in a remarkable night of sprinting on day 8 at the U.S. Olympic trials at Hayward Field, which was highlighted by three #2 all-time marks and a world junior U20 record.
Rai Benjamin won the men's 400m hurdles final in a blazing 46.83 seconds - - the fastest time in the world this year, new U.S. trials meet record, and the 2nd fastest time ever in the event. He was only 0.05 seconds off the world report set by Kevin Young at the 1992 Olympic Games in Barcelona.
"I looked at it and I was like, 'Dang, man. Point zero five,' " Benjamin said. "It hurts a little bit to know that it was right there and I couldn't grab it. But it's just more fuel for the fire, man. It'll come when it comes."
Just 45 minutes earlier, Grant Holloway, the reigning World champion, crushed the men's 110m hurdles semi-finals with a storming 12.81 seconds, missing Aries Merritt's World record by 0.01 seconds. One hour later Holloway returned to track to win the 110m hurdles final in 12.96 seconds to book the ticket to his first Olympic Games in Tokyo.
"I wasn't pressing for the record," Holloway said. "The main goal was just to set myself up and to let everyone know that I'm here to win. I told everybody in my first interview: I didn't come to this party to sit on the wall. I came to this party to dance."
The same day, Gabby Thomas clocked the 2nd fastest 200m in history, while Erriyon Knighton smashed Bolt's U20 World record.
See the complete results, live stream and TV coverage info of the U.S. track and field Olympic trials here.
Men's 400m hurdles final
Men's 110m hurdles semi final
-->