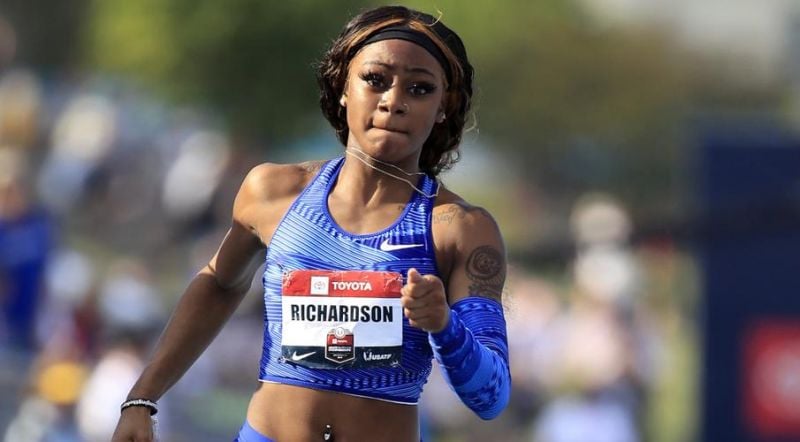 Sha'Carri Richardson and Raj Benjamin grabbed the headlines in a great edition of the USATF Golden Games at Mt. Sac in Walnut, California. The Walnut meeting produced four world seasonal best performances set by Raj Benjamin in the men's 400m hurdles (47.13), Shamier Little in the women's 400m hurdles (53.65), Christopher Nilsen in the men's pole vault (5.91m) and Ellle Purrier in the women's 1500m (3:58.36).
Women's 100 metres:
Sha'Carri Richardson stormed to an impressive 10.77 in the final of the women's 100 metres into a headwind of -1.2 m/s beating Javianne Oliver (11.08) and double 100m and 200m world under 20 champion Briana Williams (11.15). Double olympic 200m champion Veronica Campbell Brown finished fifth in 11.31.
Earlier today the 2019 NCAA champion previously breezed through to an impressive 10.74 in the heats with a tailwind of +1.1 m/s. Oliver improved her PB to 10.97 in the heats.
Sha'Carri Richardson: "I executed a fine race and I walked away with the win, so I am not disappointed. I know that I can do better, so I am just waiting for the next opportunity. I expected to run a faster rime. I know that I can run faster".
Men's 400 metres hurdles:
Raj Benjamin won the men's 400m hurdles setting the world seasonal best and the third fastest time in his career with 47.13 in his first race over this distance since taking the world silver medal in Doha 2019. Benjamin improved the previous stadium record set by US legend Edwin Moses with 47.89 in 1979.
Kyron McMaster from British Virgin Islands improved his national record to 47.50 to finish ahead of Alison Dos Santos, who smashed the Brazilian record with 47.68.
Raj Benjamin: "I worked a lot on technique this year. I was on a Zoom call with Edwin Moses. We were talking about technique and the rhythm of the race, so it's pretty cool to break one of his records".
Women's 400 metres hurdles:
Former 400m hurdles silver medallist Shamier Little set the fastest time in the world this year in her first race over this distance with 53.65. Gianna Woodruff from Panama, who held the previous world leading mark of 55.02, set a national record of 54.70.
Women's 100 metres hurdles:
Kendra Harrison equalled her second fastest time in the world with 12.48 with a tailwind of +2.0 m/s ahead of European Indoor silver medallist Cindi Sember (12.53) and 2018 Commonwealth Games champion Tobi Amusan (12.61). Devynne Charlton finished fourth setting the record of the Bahamas with 12.61. World 400m hurdles silver medallist Sydney McLaughlin set her PB and the Olympic qualifying mark of 12.65 beating Tiffany Porter (12.69).
Men's 200 metres:
World 200m and 4x100 champion Noah Lyles recovered from a slow start and caught up with Kenny Bednarek in the final 10 metres to edge ahead of his compatriot in the men's 200 metres in 19.90 with a tailwind of +0.7 m/s. Bednarek, who opened a lead of three metres over Lyles on the bend, dipped under the 20 seconds with 19.94 to finish ahead of 2017 world bronze medallist Jereem Richards from Trinidad and Tobago (20.20) and Aaron Brown (20.26).
Men's 100 metres:
The top four sprinters set their seasonal best. Cravon Gillepsie won the men's 100 metres with 9.96 edging out Isiah Young (9.99), Chris Belcher (10.03) and CJ Ujah (10.03). NFL player DK Metcalf, wide receiver of the Seattle Seahawks, finished ninth in the heat with 10.37.
Cravon Gillespie: "I had to adjust my training. If I put everything together, I can execute a good race. I dedicate this race to my grandmother. She is an inspiration for me".
Men's 400 metres:
Michael Norman won the men's 400 metres setting the stadium record with 44.40 and the second fastest time in the world this year. The previous facility record was held by 1988 Olympic champion Steve Lewis. Only Noah Williams ran faster than Norman during the 2021 outdoor season wit 44.30 in Baton Rouge. US Michael Cherry finished second in 44.86 ahead of Deon Lendore (45.04) and 800m specialist Emmanuel Korir (45.29).
Women's 200 metres:
Gabby Thomas showed her impressive form winning the women's 200 metres in 22.12 ahead of 2012 Olympic champion Allyson Felix (22.26 her fastest time since 2016), Lynna Irby (22.27) and Jenna Prandini (22.30) with a tailwind of +2.1 m/s.
Men's pole vault:
Christopher Nilsen cleared 5.91m in the first attempt to win the men's pole vault. Nilsen improved Armand Duplantis' world seasonal best by one centimetre. The 2019 NCAA outdoor champion missed three attempts at 6.00m.
US Nate Richartz equalled his PB with 5.70m to finish seconda head of Matt Ludwig on countback.
Women's pole vault:
Reigning olympic champion Ekaterini Stefanidi cleared a seasonal best of 4.80m to win the women's pole vault ahead of Katie Nageotte and Olivia Gruver, who both cleared 4.70m.
Men's shot put:
Darrell Hill set the third best performance in the world this year with 22.34m in the fourth round. Hill led from the first round with 21.13m and improved with his next next three rounds: 21.69m, 22.19m and 22.34m.
The 2017 Diamond League champion beat US Josh Awotunde, who improved his PB to 21.68m, and Chukwebuka Enekwechi from Nigeria (20.97m).
Women's 1500 metres:
Ellie Purrier launched her final kick in the home straight to claim the win in the women's 1500m race with 3:58.36 improving Linden Hall's world seasonal best. Gabriela DeBues Stafford finished second in 4:00.69 ahead of Shannon Osika, who improved her PB to 4:00.73.
Ellie Purrier: "I trained very well in Flagstaff. I am very happy with the time".
Women's 800 metres:
Seven runners dipped under the 2 minutes barrier in a very competitive race. Double European Under 23 champion Jemma Reekie launched her kick in the final straight to cross the finish line in an outdoor PB to 1:58.27. Reekie held off her training partner and friend Laura Muir, who clocked 1:58.46 to finish second ahead of Canada's Melissa Bishop Nriagu (1:58.62, the fourth fastest time in almost four years), Adelle Tracey (1:59.50), Raevyn Rogers (1:59.66), Heather MacLean (1:59.72) and Sinclaire Johnson (1:59.91).
Men's 800 metres:
Bryce Hoppel claimed the men's 800m in 1:44.94 holding off Kenyia's Michael Saruni (1:45.18) and olympic bronze medallist Clayton Murphy (1:45.31).
Men's 1500 metres:
Australia's Ollie Hoare won his second consecutive race in the Continental Tour on US soil improving his outdoor PB to 3:33.19. Hoare held off Justyn Knight, who lowered his lifetime best to 3:34.41 after a close sprint in the final straight.
Men's triple jump:
Double Olympic silver Will Claye leapt to 17.15m in the fifth attempt to beat Donald Scott (17.00m), Chris Benard (16.98m) and European Indoor Championships fourth placer Tobia Bocchi (16.90m)
Women's triple jump:
Jamaica's Kimberly Williams started the competition with two fouls, but she recovered to take the lead with 14.38m in the third round. The 2018 Commonwealth champion improved her winning mark to 14.62m in the fourth round. US record holder Keturah Orji produced her best jump of 14.38m to finish second ahead of Thea Lafond from Dominica (14.22m).
Women's hammer throw:
US Gwen Berry produced her best throw with 73.73m in the fifth roud to take the win ahead of Canada's Jillian Weir (68.49m).
Women's shot put:
US Maggie Ewen won the women's shot put with her seasonal best of 19.32m beating 2018 Commonwealth Games gold medallist Danniel Thomas Dodd (18.91m) and US Jessica Ramsey (18.58m).
-->