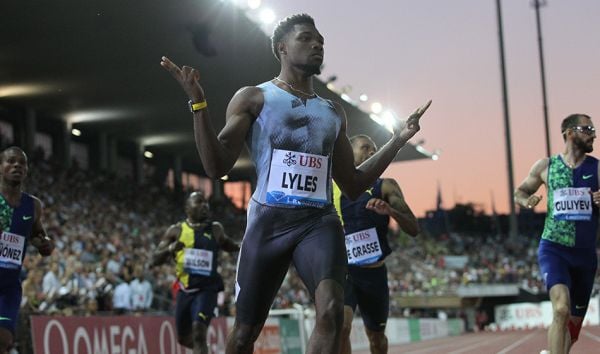 The USATF Golden Games at Mt. Sac in Walnut, California on May 9 has attracted an array of athletics stars for the third leg of the 2021 Continental Tour Gold, which includes Shaunae Miller Uibo, Michael Norman, Raj Benjamin, Noah Lyles, Allyson Felix, Kendra Harrison and Donavan Brazier.
See the live stream, TV coverage, results and start lists
Men's 400 metres:
Michael Norman will run his second 400m outdoor race two weeks after his win in 44.69 in the first Continental Tour Gold meeting of the year in Eugene ahead of his friend and training partner Raj Benjamin. Norman will run in his native Southern California for the first time since April 2019, when he became the fourth-fastest 400m sprinter in history with 43.45 at the Mt. Sac Relays in Torrance beating Benjamin.
Norman will face 2019 NCAA outdoor champion Khamari Montgomery, Justin Robinson, who set the world under 18 record with 44.84 last year and won the Miramar Continental Tour meeting with 45.23, 2008 Olympic gold medallist and two-time world champion Lashawn Merritt, who will make an attempt to qualify for the Olympic Games for the fourth time in his career, Michael Cherry (44.66) and Kenya's 800m star Emmanuel Korir, who holds an impressive PB of 44.21 in the 400m.
Men's 400 metres hurdles:
Raj Benjamin will run his first 400m hurdles race since winning the world silver medal in Doha 2019. The US hurdler set his PB of 44.31 over the 400m flat distance at the Mt. Sac Relays two years ago and clocked 44.97 in his seasonal debut in Eugene. He is one of the four specialists to dip under 47 seconds in the 400m hurdles with 46.98 in the Diamond League final in Zurich in 2019. Benjamin will face world championships finalist Alison Dos Santos from Brazil, who finished seventh at the World Championships in Doha and clocked 48.15 in Des Moines, Kyron McMaster from the British Virgin Islands, who set his PB with 47.54 in Paris Charlety in 2018, and Kenny Selmon, who dipped under the 49 seconds three times this year and improved his seasonal best to 48.81 in Miramar.
Women's 200 metres:
Shaunae Miller Uibo will run her second 200m outdoor race one month after setting the world seasonal best with 22.03 in Clermont. The reigning Olympic 400 metres champion made a winning debut to her Continental Tour campaign in Eugene, where she set the world-leading time of 49.08.
Miller Uibo will face a re-match of the Rio 2016 400m Olympic final against Allyson Felix, who clocked 22.59 in the 200m indoors last February in Fayetteville.
Another sprinter to watch is 2018 NCAA Indoor champion Gabby Thomas, who won the 200m at the Texas Relays in 22.17.
Women's 100 metres:
Sha'Carri Richardson will run her second 100m race this season a few weeks after clocking the sixth-fastest time in history with 10.72 in the Continental Tour silver meeting in Miramar. Richardson will test her shape ahead of the eagerly-awaited 100m showdown against Shelly Ann Fraser Pryce, Elaine Thompson and Dina Asher-Smith in the Diamond League meeting in Gateshead on 23 May.
Richardson will line up against former 200m US champion Jenna Prandini, who clocked 22.22 in the 200m in Austin, Tehana Daniels (US 100m champion in 2019), Javianne Oliver (US indoor champion in the 60m in 7.02), Kayla White (second at the NCAA Championships in the 100m in 2019), 2016 Olympic Trials winner English Gardner, reigning long jump and 4x100 relay Olympic champion Tianna Bartoletta and two-time Olympic 200m gold medallist Veronica Campbell Brown.
Men's 200 metres:
World 200m champion Noah Lyles will run his first race of the season over his favourite distance after clocking 10.08 in Gainesville and 10.17 in the 100m in Eugene. Lyles will be aiming to run his first sub-20 time of the year against Kenny Bednarek, who improved his PB to 19.80 in Montverde last year.
Lyles raced against Bednarek three times in his career. In the 2019 US Championships final, Lyles won the title in 19.78 as Bednarek pulled up injured. Last July Lyles beat Bednarek in the 200m in 19.94 to 20.19. Bednarek came out on top in the 100m in Clermont this year in 10.03 to 10.08.
The other 200m specialist in the field with a sub-20 seconds PB is 2017 world bronze medallist Jereem Richards from Trinidad and Tobago.
US 17-year-old rising star Erriyon Knighton will make his debut on the Continental Tour stage after setting the second-fastest time in history for the under 18 category with 20.31 in the 200m and a wind-assisted 9.99 in the 100m in Clermont.
Women's 100m hurdles:
World 100m hurdles record-holder Kendra Harrison will run her third race over her favourite distance after clocking 12.54 in Miramar and 12.48 (the second-fastest time in the world this year) in Austin.
Harrison will take on world 400m hurdles silver medallist Sydney McLaughlin, who improved her PB twice this year to 12.92 in Azusa and 12.86 in Eugene becoming the first athlete in history to run under 53 seconds in the 400m hurdles, under 13 seconds in the 100m hurdles and 23 seconds in the 200m.
The line-up also features reigning Commonwealth Games gold medallist Tobi Amusan from Nigeria, who set the third-fastest time in the world this year with 12.48, Christina Clemons and Sharika Nelvis, who finished second and fourth respectively at the World Indoor Championships in Birmingham 2018, and British sisters Cindi Sember and Tiffany Porter, who won the silver and bronze medals at the 2021 European Indoor Championships in Torun.
Men's 100 metres:
The fastest sprinter in the line-up based on season's best is Kyree King, who clocked 9.97 in Miramar. King will clash against 2019 world 4x100 relay champion Michael Rodgers, Cejhae Greene from Antigua and Barbuda, who dipped under the 10 seconds barrier with a wind-assisted 9.98 in Clermont with +2.7 m/s. American Football NFL star DK Metcalf, who plays as wide receiver for the Seahawks, will pursue the qualifying standard for the Olympic Trials in Eugene of 10.05.
Women's 400 metres hurdles:
Former world 400m hurdles silver medallist Shamier Little will be looking to run a fast time a few weeks after breaking the 50 seconds barrier with 49.91 in the Continental Tour silver meeting in Miramar. Little will face Olympic bronze medallist Ashleigh Spencer and 2017 world champion, Kori Carter.
Men's pole vault:
The men's pole vault will be a clash between Chris Nilsen and KC Lightfoot, the most talented specialists of the new generation. Nilsen won the NCAA outdoor title in Austin in 2019 with 5.95m beating Armand Duplantis. Nilsen, who began competing for South Dakota Coyotes, began his professional career in July 2020 and cleared 5.93 indoors in Rouen last February and 5.80m at the Drake Relays in Des Moines in his outdoor debut this year.
Lightfoot improved the NCAA indoor record to 6.00m at the Texas Tech Shootout last February and won the NCAA Indoor title in Fayetteville.
The other US specialist to follow is Cole Walsh, who finished third in the 2019 Diamond League final in Zurich with 5.83m.
Women's pole vault:
Reigning pole vault Olympic champion Ekaterini Stefanidi will compete for the third time this outdoor season after winning two consecutive competitions in Chula Vista with 4.60m and 4.61m. The Greek star will face two-time US indoor champion Katie Nageotte, who improved her PB to 4.92m last year, Canadian record holder Alysha Newman (PB 4.82m) and Anicka Newell (seventh at the 2018 Commonwealth Games in Gold Coast).
Men's triple jump:
Two-time Olympic silver medallist Will Claye will compete for the first time since 2019. Claye, who became the second-best US triple jumper in history with 18.14m in 2019, will face Donald Scott, who set his PB with 17.43 in Rome in 2019, Chris Carter (17.18m in Eugene 2016) and Italian Indoor champion Tobia Bocchi, who finished fourth at the 2021 European Indoor Championships in Torun.
Men's shot put:
Darrell Hill will battle against Nick Ponzio in a clash between two contenders for the a qualifying spot in the Olympic team. Hill won the Diamond League final in Brussels in 2017 with 22.44m and finished fifth at the World Championships in Doha 2019 with 21.65m. He set a seasonal best of 21.76m at the Drake Relays in Des Moines. Ponzio came to the fore last year, when he improved his PB to 21.72m and won his first Diamond League competition with 21.09m in Rome.
Women's shot put:
The favourite is Jamaica's Danniel Thomas-Dodd, who won the gold medal at the Commonwealth Games in Gold Coast 2018 and the silver medal at the World Championships in Doha 2019. The Jamaican shot putter won the Continental Tour silver competition with 19.17m in Miramar.
Men's 800 metres:
World outdoor champion Donovan Brazier will run his first outdoor 800m race this season after clocking 3:37.58 in the 1500m in Eugene. The US star set the North-American indoor record with 1:44.21 in New York last February. He has not lost a 800m race since May 2019, when he finished third in the Diamond League meeting in Doha.
Brazier will run against Bryce Hoppel, 2016 olympic bronze medallist Clayton Murphy and Canada's Marco Arop for the first time since the World Championships final in Doha 2019. Hoppel won the NCAA outdoor title and finished fourth at the World Championships in Doha. Last February he set his indoor PB with 1:44.37 in Fayetteville. The line-up is completed by Kenya's Michael Saruni, who clocked his PB of 1:43.25 in 2018, and Isiah Harris, who finished fourth at the 2019 US outdoor Championships.
Women's 800 metres:
European outdoor 1500m champion Laura Muir will clash against her training partner Jemma Reekie. Muir improved the British Indoor record in the 1500m in Liévin with 3:59.58 and opened her outdoor season with a win in the 1500m in the Eugene Continental Tour meeting with 4:01.54. European under 23 champion Jemma Reekie finished second in the 800m race in Eugene behind another British middle-distance runner Adelle Tracey, who took a surprising win in 2:03.25. The Walnut race features many athletes, who ran in Eugene two weeks ago, including 2019 world outdoor silver medallist Raevyn Rogers and 2015 world silver medallist Melissa Bishop from Canada. Brenda Martinez (2013 world silver medallist in Moscow) is also entered for her seasonal debut after running just one race in 2019 and two in 2020.
Men's 1500 metres:
This year's NCAA Indoor champion Oliver Hoare from Australia will be bidding to win his third 1500m win on US title after finishing first in the World Indoor Tour in New York in 3:32.25 and in the Continental Tour in Eugene in 3:33.54. The other top names in the line-up are Canadian runner Mo Ahmed, who set his PB with 12:47.20 in the 5000m in 2020, Justyn Knight, Johnny Gregorek, Craig Engels and Sam Prakel.
Women's 1500 metres:
US Elinor Purrier and Canada's Gabriela Debues Stafford showed good form in 2021. Purrier set the US indoor record over the 2 miles distance with 9:10.28 in New York last February. Debues Strafford recently improved her PB in the 3000m with 8:38.51 in Phoenix. Purrier won her previous head-to-head race with Debues Stafford in the indoor mile setting the US record with 4:16.85, while the Canadan runner improved the Canadian record with 8:38.51.
Men's 3000m steeplechase:
Olympic silver medallist Evan Jager will run his first 3000m steeplechase race since August 2018. The greatest steeplechase runner of all-time missed the entire 2019 season due to a foot injury and did did not have any opportunities to run a steeplechase race in 2020, although he clocked 3:36.31 in the 1500m, 7:46.31 in the 3000m and 13:12.12 in the 5000m. Last February he ran a 3000m race in 7:42.51 in Phoenix. He will make his return at Mt. Sac in Walnut, where he ran his first-ever steeplechase race.
-->