Athing Mu destroys World U20 Indoor record with 1:58.40

Posted by:
Watch Athletics
Saturday, 27 February 2021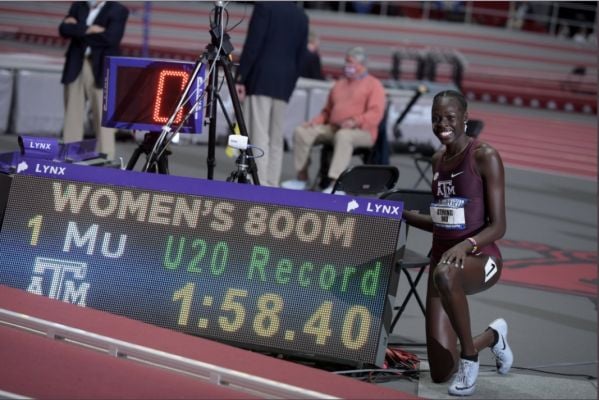 18-year-old Athing Mu, a freshman from Texas A&M, smashed the official World U20 indoor record by more than two seconds with an incredible 1:58.40 at the 2021 SEC championships on Saturday, February 27 in Fayetteville, Arkansas.
Earlier this year in Vienna 19-year-old Keely Hodgkinson clocked an unratified World U20 record of 1:59.07.
Watch the full race video here.
Mu became the first US collegiate woman to run the 800m indoors faster than 2 minutes. Her time was only 0.11 short of the American and North American indoor record and puts her 20th on the senior world indoor all-time list. Her personal best time prior to Saturday night was 2:01.07 from mid-January.
Women's 800m final results SEC indoor championships 2021
1
Athing MU
Texas A&M [FR]
1:58.40
PB CL MR FR CR
28.65
[28.65]
57.96
[29.32]
1:27.60
[29.64]
1:58.40
[30.81]
2
Gabrielle WILKINSON
Florida [SO]
2:02.85
PB
29.06
[29.06]
59.46
[30.41]
1:31.17
[31.71]
2:02.85
[31.69]
3
Shafiqua MALONEY
Arkansas [SR]
2:03.12
PB
28.89
[28.89]
59.17
[30.28]
1:31.41
[32.25]
2:03.12
[31.71]
4
Sintayehu VISSA
Ole Miss [SO]
2:06.97
30.39
[30.39]
1:01.80
[31.41]
1:34.42
[32.63]
2:06.97
[32.55]
5
Jenna SCHWINGHAMER
Kentucky [FR]
2:07.55
PB
30.35
[30.35]
1:01.63
[31.29]
1:34.99
[33.36]
2:07.55
[32.56]
6
Abbie HARRELSON
Florida [SR]
2:07.79
PB
30.59
[30.59]
1:01.92
[31.34]
1:34.60
[32.68]
2:07.79
[33.19]
7
Quinn OWEN
Arkansas [JR]
2:09.26
29.74
[29.74]
1:01.21
[31.47]
1:34.87
[33.67]
2:09.26
[34.40]
8
Anna Marian BLOCK
Georgia [JR]
2:10.39
30.15
[30.15]
1:01.65
[31.51]
1:36.10
[34.45]
2:10.39
[34.30]
-->