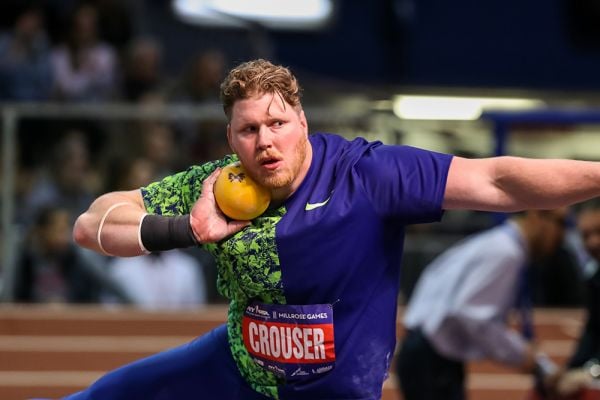 Ryan Crouser (USA) just broke the shot put World record at the inaugural American Indoor Track League I in Fayetteville, Arkansas on Sunday (24).
The reigning Olympic shot put champion, Crouser, in his very first attempt threw 22.82m smashing the 22-year-old Randy Barnes' World indoor record by 24cm.
"I'd say it's a pretty good start to 2021," Crouser said after his first throw.
See the full meet results here.
Grant Holloway (USA), the World champion in the 110m hurdles, stormed to a victory in the men's 60m hurdles final in 7.35 seconds to equal his USA record and PB and the 3rd fastest time in history. He also clocked 7.38 seconds in the prelims. The men's 60m hurdles World record indoors stands at 7.33 seconds.
In the women's 60m hurdles final, Tonea Marshal (USA) clocked a new PB and WL of 7.86 seconds to beat compatriot Christina Clemons by 0.02 seconds. British hurdler Tiffany porter was third in 7.89 seconds.
The 2016 World indoor champion, Trayvon Bromell (USA), who was sidelined by injuries in the last three years, returned to competition with a strong 60m dash victory. He clocked 6.58 seconds in the preliminary round before winning the final in a world-leading time of 6.48 seconds.
Quanera Hayes (USA) edged Shamier Little (USA) and Wadaline Jonathas (USA) to set the world leader in the women's 400m with 51.76 seconds. Fred Kerly clocked the World lead of 45.03 seconds to win the men's 400m.
Vashti Cunningham cleared 1.90m to win the women's high jump.
Video Ryan Crouser breaks shot put World record
Men's 60m Final
Women's 60m hurdles final
Women's 400m finish
Men's shot put top 10 all-time indoors as of 24, Jan 2021
1. Ryan Crouser USA 22.82 WR
2. Randy Barnes USA 22.66
3. Ulf Timmermann GER 22.55
4. Adam Nelson USA 22.40
5. Tom Walsh NZL 22.31
6. Werner Günthör SUI 22.26
7. Ryan Whiting USA22.23
8. Christian Cantwell USA 22.18
9. Tomáš Staněk CZE 22.17
10. Brian Oldfield USA 22.11
-->