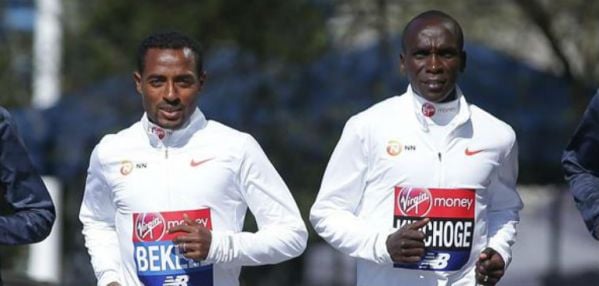 The 2020 London Marathon Organizers released the men's and women's elite athlete's fields.
This year's London marathon will have only elite athletes races while the mass participation has been canceled due to coronavirus fears.
The highlights of the 2020 London Marathon are clashes between distance running giants Eliud Kipchoge and Ekenisa Bekele in the men's race and Brigid Kosgei vs Ruth Chepngetich in the women's race.
The race will take place in a closed-loop circuit around St James's Park in central London with the iconic finish on The Mall remaining the same as in previous years.
See the full lists of men's and women's Elite athletes below.
Men Elite
Women Elite
Eliud Kipchoge (KEN) 2:01:39
Kenenisa Bekele (ETH) 2:01:41
Mosinet Geremew (ETH) 2:02:55
Marius Kipserem (KEN) 2:04:11
Mule Wasihun (ETH) 2:03:11
Tamirat Tola (ETH) 2:04:06
Shura Kitata (ETH) 2:04:49
Sondre Moen (NOR) 2:05:48
Sissay Lemma (ETH) 2:03:36
Chris Thompson (GBR) 2:11:19
Johnny Mellor (GBR) 2:10:03
Ben Connor (GBR) Debut
Vincent Kipchumba (KEN) PB: 2:05.09
Gideon Kipketer (KEN) PB: 2:05.51
Polat Kemboi Arikan (TUR) PB: 2:08.14
Arne Gabius (GER) PB: 2:08.33
Jared Ward (USA) PB: 2:09.25
Elroy Gelant (RSA) PB: 2:10.31
Daniele Meucci (ITA) PB: 2:10.45
Brett Robinson (AUS) PB: 2:10.55
Juan Luis Barrios (MEX) PB: 2:10.55
Peter Herzog (AUT) PB: 2:10.57
Jack Rayner (AUS) PB: 2:11.06
Stephen Scullion (IRL) PB: 2:11.52
Remigijus Kancys (LTU) PB: 2:12.50
Florian Carvalho (FRA) PB: 2:12.53
Tristan Woodfine (CAN) PB: 2:13.16
Michael Clohisey (IRL) PB: 2:13.19
Charlie Hulson (GBR) PB: 2:14.22
Joshua Griffiths (GBR) PB: 2:14.25
Nick Earl (GBR) PB: 2:14.38
Julian Spence (AUS) PB: 2:14.42
Justin Mahieu (BEL) PB: 2:14.43
Nicholas Torry (GBR) PB: 2:15.04
Peter Le Grice (GBR) PB: 2:16.22
Andreas Myhre Sjurseth (NOR) PB: 2:16.37
Paul Marteletti (GBR) PB: 2:16.49
Adam Hickey (GBR) PB: 2:16.56
Aaron Scott (GBR) PB: 2:16.57
Paul Navesey (GBR) PB: 2:17.16
Dan Nash (GBR) PB: 2:18.51
Ollie Lockley (GBR) PB: 2:25.28
Josh Lunn (GBR) PB: Debut
Ross Millington (GBR)PB: Debut
Jack Gray (GBR)PB: Debut

Pacers
Noah Kipkemboi (KEN) Victor Chumo (KEN) Eric Kiptanui (KEN) Alfred Barkach (KEN) Shadrack Kimining (KEN) Matt Clowes (GBR) Sir Mo Farah (GBR) Jake Smith (GBR).

Brigid Kosgei KEN PB: 2:14:04 (Chicago 2018)
Ruth Chepngetich KEN PB: 2:17:08 (Dubai 2019)
Roza Dereje ETH PB: 2:18:30 (Valencia 2019)
Vivian Cheruiyot KEN PB: 2:18:31 (London 2018)
Degitu Azimeraw ETH PB: 2:19:26 (Amsterdam 2019)
Ashete Bekere ETH PB: 2:20:14 (Berlin 2019)
Alemu Megertu ETH DOB: 12/10/1997 PB: 2:21:10 (Frankfurt 2019)
Sinead Diver AUS PB: 2:24:11 (London 2019)
Carla Salome Rocha POR PB: 2:24:47 (London 2019)
Steph Twell GBR PB: 2:26:40 (Frankfurt 2019)
Lily Partridge GBR PB: 2:29:24 (London 2018)
Sara Hall USA PB: 2:22:16 (Berlin 2019)
Valary Jemeli (KEN) PB: 2:19.10
Ellie Pashley (AUS) PB: 2:26.21
Sara Caterina Ribeiro (POR) PB: 2:26.39
Anna Hahner (GER) PB: 2:26.44
Molly Seidel (USA) PB: 2:27.31
Gerda Steyn (RSA) PB: 2:27.48
Darya Mykhaylova (UKR) PB: 2:28.15
Lisa Hahner (GER) PB: 2:28.39
Tracy Barlow (GBR) PB: 2:30.42
Natasha Cockram (GBR) PB: 2:30.49
Risper Gesabwa (MEX) PB: 2:30.59
Tish Jones (GBR) PB: 2:31.00
Monika Bytautiene (LTU) PB: 2:32.28
Helen Davies (GBR) PB: 2:34.06
Naomi Mitchell (GBR) PB: 2:37.51
Edith Chelimo (KEN)
PB: Debut

Pacers:
Pauline Kamulu (KEN) Sandrafelis Chebet Tuei (KEN) Lydia Mathathi (KEN) Aly Dixon (GBR) Dani Nimmock (GBR) Nancy Jelagat (KEN) Charlotte Arter (GBR) Susan Krumins (NED)
-->