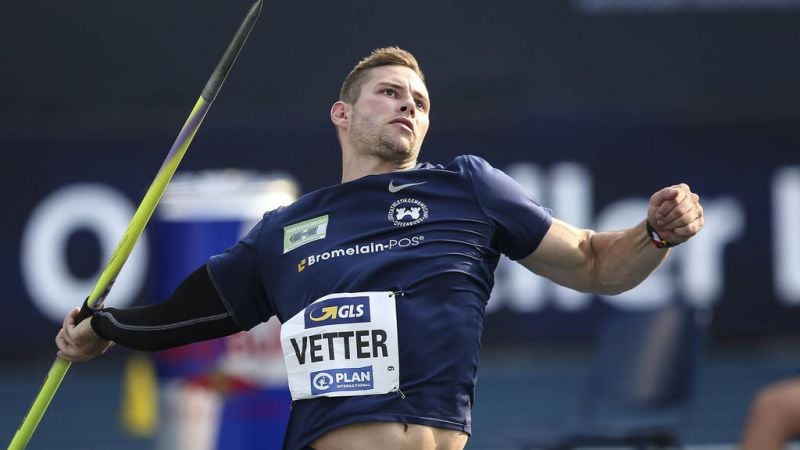 Johannes Vetter's 87.36m World-leading throw in the javelin was the highlight of the second day at the 2020 German Athletics championships in Braunschweig on Sunday (9).
The 2017 World champion, Vetter, after his 84.84m and 84.38m throws in the first two rounds, unleashed a huge 87.36m throw to seal the victory. Andreas Hoffman ( personal best 92.06m) was second with a modest performance of 77.35.
"Throwing 87 meters was great. You could see that I can do even more. I hope to improve my performance in the upcoming competitions. I didn't let the current situation get me down and made the best of the situation. That's what I've done for the last few years when I've had a hard time due to injuries and other personal problems. I had to start up a little slower because of the short run-up, which also costs energy, but I'm completely satisfied. I'm flying to Helsinki tomorrow and throwing in Turku on Tuesday and Leverkusen on Sunday. And more competitions will follow." Vetter told German Athletics.
Malaika Mihambo, the reigning World champion, easily won the long jump with a 6.71 m leap.
In the vertical jumps, Mateusz Przybylko cleared 2.28 m to win the men's high jump while Bo Kanda Lita Baehre went over 5.75m to claim the men's pole vault title.
In the women's 400m final Corinna Schwab and Karolina Pahlitzsch broke the 52-second barrier to finish 1st and 2nd second respectively. Schwab won the title with 51.73 seconds while Pahlitzsch with 51.88 seconds was second. The last time two German women finished the 400m inside 52 seconds was at the 2013 national outdoor championships.
Marc Reuther won the men's 800m with 1:46.97 while Christina Hering (2:01.62) was the winner in the women's 800m final.
The opening day of Greman championships on Saturday highlighted the 21-year-old Deniz Almas who won the men's 100m final in a new PB of 10.09 seconds. Lisa Marie Kwayie won the women's 100m title with a time of 11.30 seconds.
Marvin Chlegel claimed the men's 400m final in a new PB 45.80.
Max Hess won his 4th straight triple jump title with a 16.58m effort.