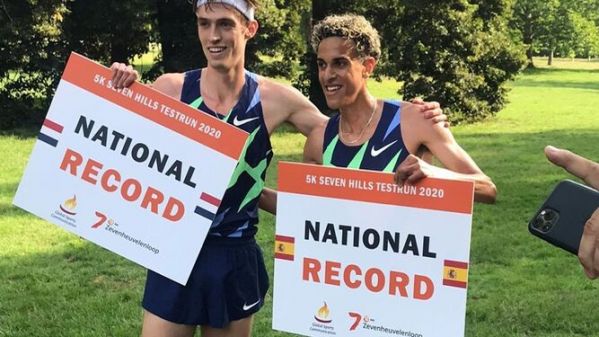 The Spanish runner Ouassim Oumaiz made some history this past weekend by breaking the national record in a 'secret' road race in the Goffertpark in Nijmegen, the Netherlands Sunday.
Oumaiz was the fastest runner completing the 5km circuit in 13 minutes and 19 seconds, destroying the national record of 13:47 set by Chema Martínez back in 2007 and missing the European record set by only one second.
Mike Foppen set a new Dutch record finishing finished after 13.31.
The 'secret race' in Nijmegen was a little-publicized event, all this so that many people did not attend the municipality, due to the times of coronavirus. "We were not allowed to advertise the event in advance, also because we want to maintain good contact with the Nijmegen municipality, " said Alexander Vandevelde , president of the Seven Hills Run . "The Goffertpark was adequate because it is quiet here on Sunday morning. We went here twice and saw that there is not much to do except a few hikers," said one of the race organizers.
Top Results Men
| | | |
| --- | --- | --- |
| 1 | Ouassim Oumaiz | 00:13:19 |
| 2 | Mike Foppen | 00:13:31 |
| 3 | Noah Schutte | 00:13:35 |
| 4 | Benjamin de Haan | 00:13:41 |
| 5 | David Nilsson | 00:13:42 |
| 6 | Stan Niesten | 00:13:44 |
| 7 | Richard Douma | 00:13:56 |
| 8 | Roy Hoornweg | 00:13:57 |
| 9 | Mohammed Ali | 00:14:09 |
| 10 | Yannick Michiels | 00:14:11 |
| 11 | Hlynur Andresson | 00:14:32 |
| 12 | Bart van Nunen | 00:14:52 |
Top Results Women
| | | |
| --- | --- | --- |
| 1 | Maureen Koster | 00:15:25 |
| 2 | Marijke de Visser | 00:16:24 |
| 3 | Jacelyn Gruppen | 00:16:36 |
| 4 | Saskia Weinans | 00:16:50 |
| 5 | Vera de Vries | 00:17:27 |
| 6 | Josien Scheepens | 00:18:19 |
-->