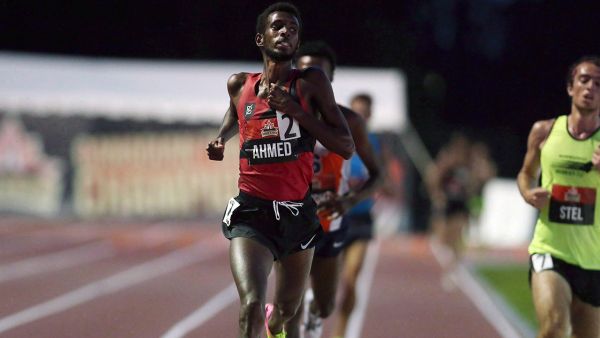 Canadian long-distance runner, Mo Ahmed, and American Shelby Houlihan set a new North American 5000m records at the Bowerman Track Club Intrasquad II Meet on late Friday night in Portland, OR.
Watch both men's and women's races here.
The 2019 World Championship bronze medalist, Ahmed, who was paced until 3200m by World-class runners Ryan Hill, Grant Fisher, and Evan Jager, blazed 3:58.59 in the final 1600m to clock an astonishing 12:47.20 and to become the 10th fastest 5000m runner in history.
"With two laps to go, the clock said 10:49 and I just thought, 'you can run two 2:00 flat for the final 800m'. With 200m to go, I just tried to blast it as hard as I could." Ahmed told Runnerspace.
The reigning USA champion Lopez Lomong finished behind Ahmed set a new personal best 12:58.78, to become the ninth American to run 5000m under 13 minutes.
In the women's 5000m race, Shelby Houlihan broke her own American record (14:34.45) with an amazing 14:23.92 to become the 12th fastest 5000m runner in history
Another Ameican, Karissa Schweizer surprised by setting a massive personal best time of 14:26.34, the 14th fastest time in history.
"I knew Karissa was going to try to come upon me and take the lead, but I decided I was not going to let that happen, I just kept trying to fight her off and tried to have a big kick on the last lap." Houlihan told Runnerspace after the race.
Men's 5000m all-time top 10
1. Kenenisa Bekele ETH 12:37.35 Hengelo 31 May 2004
2. Haile Gebrselassie ETH 12:39.36 Helsinki 13 Jun 1998
3. Daniel Komen KEN 12:39.74 Bruxelles 22 Aug 1997
4. Selemon Barega ETH 12:43.02 Bruxelles 31 Aug 2018
5. Hagos Gebrhiwet ETH12:45.82 Bruxelles 31 Aug 2018
6. Eliud Kipchoge KEN 12:46.53 Roma 2 Jul 2004
7. Yomif Kejelcha ETH12:46.79 Bruxelles 31 Aug 2018
8. Dejen Gebremeskel ETH 12:46.81 Saint-Denis 6 Jul 2012
9. Sileshi Sihine ETH12:47.04 Roma 2 Jul 2004
10. Mo Ahmed CAN 12:47.20 Portland 10 July 2020
Women's 5000m all-time top 10
1. Tirunesh Dibaba ETH 14:11.15 Oslo 6 Jun 2008
2. Almaz Ayana ETH 14:12.59 Roma 2 Jun 2016
3. Meseret Defar ETH 14:12.88 Stockholm/S 22 Jul 2008
4. Genzebe Dibaba ETH 14:15.41 Saint-Denis 4 Jul 2015
5. Hellen Obiri KEN 14:18.37 Roma 8 Jun 2017
6. Agnes Tirop KEN 14:20.68 London 21 Jul 2019
7. Vivian Cheruiyot KEN 14:20.87 Stockholm/S 29 Jul 2011
8. Sifan Hassan NED 14:22.12 London 21 Jul 2019
9. Letesenbet Gidey ETH 14:23.14 Rabat 13 Jul 2018
10. Senbere Teferi ETH 14:23.33 Rabat 13 Jul 2018
11. Liliya Shobukhova RUS 14:23.75 Kazan 19 Jul 2008
12. Shelby Houlihan USA 14:23.92 Portland 10 July 2020
13. Elvan Abeylegesse TUR 14:24.68 Bergen 11 Jun 2004
14. Karissa Schweizer USA 14:26.34 Portland 10 July 2020
15. Konstanze Klosterhalfen GER 14:26.76 Berlin 3 Aug 2019
-->