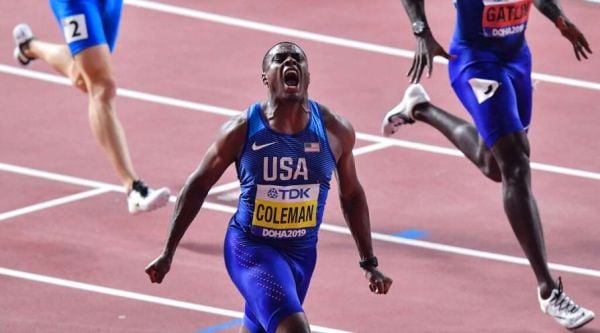 World 100m champion Christian Coleman has been provisionally suspended by Athletics Integrity Unit (AIU) for missing three drug tests.
The AIU said on Twitter it had administered "a provisional suspension against the USA sprinter Christian Coleman for whereabouts failures, which is a violation of the Anti-Doping Rules."
The 24-year-old sprinter missed his third doping on December 9, which has been confirmed by AIU.
Coleman said he was only "five minutes away from home" doing a Christmas shopping in a mall.
"I was more than ready and available for testing and if I had received a phone call I could've taken the drug test and carried on with my night," Coleman wrote on Twitter.
"I was only made aware of this attempted drug test the next day on December 10th, 2019 by the AIU when I got this failed attempt to report out of nowhere."
"I thought the point of the organization was to keep the sport clean by testing everyone and catching cheaters, not attempt to catch people when they're not home and make no attempt to actually test them and mess with the livelihoods of people who are clearly not doping.
"This isn't justice for anybody."
"I have never and will never use performance-enhancing supplements or drugs."
"The system must change," Coleman said.
The AIU policy does not require to call an athlete if they're not at the designated address.
Under the World Athletics Anti-Doping Rules, any combination of 3 whereabouts failures (Filing Failure and/or Missed Test) within a period of 12 months constitute an anti-doping rule violation, for which the applicable sanction is 2 years' ineligibility.