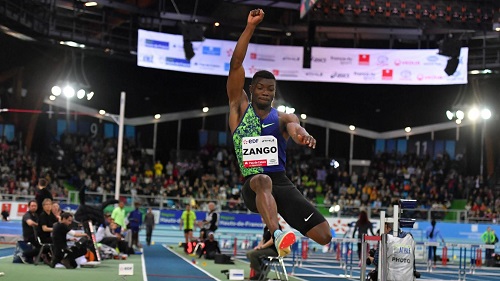 Triple jump stars Yulimar Rojas and Fabrice Zango will grab the headlines at the Villa de Madrid meeting at the Polideportivo Municipal Gallur on Friday 21st February. Madrid will stage the final leg of the 2020 World Athletics Indoor Tour.
Two-time world outdoor champion Rojas has become the eighth triple jumper in history to leap over the 15 metres barrier indoors, when she broke the South American indoor record with 15.03m in Metz in her seasonal debut in 2020. Rojas, who is coached by Cuban former Ivan Pedroso, jumped over the 15 metres barrier for the first time in her career with 15.02 in the Madrid outdoor meeting in 2016 and set four of her indoor PB performances in Madrid. Rojas will take on reigning European Indoor champion Ana Peleteiro from Spain, former European champion and 2017 World Indoor Tour winner Patricia Mamona from Portugal and Thea Lafond from Dominica, who leapt to 14.33m earlier this year.
Zango ended the 2019 season with a world bronze medal in Doha (the first podium for Burkina Faso in the history of the World Championships) and picked up where he left off this winter by setting an outright African record and the fourth best performance in the world indoor list with 17.77m in Paris Bercy. He confirmed his excellent level with another win on French soil in Lievin with 17.51m earlier this week. Zango will face 2019 European Indoor champion Nazim Babayev from Azerbaijan, 2008 Olympic champion Nelson Evora from Portugal, Donald Scott, who won the US Indoor title with 17.24m in Albuquerque last week, and Spain's Pablo Torrijos, who won in Boston.
Reigning world indoor champion Juan Miguel Echevarria will be in the spotlight in the men's long jump. The Cuban star finished third at the World Championships in Doha and set his career best with 8.65m at the Diamond League final in Zurich last year. He will renew his rivalry against Swede Tobias Montler, who beat the young Cuban in the Stockolm Diamond League meeting last year, and reigning European outdoor and indoor champion Miltiadis Tentoglou from Greece. The field also features 2016 world indoor bronze medallist Huang Changzhou and 2015 Asian champion Gao Xinglong from China, and European Indoor heptathlon gold medallist Jorge Urena from Spain. World 60m indoor bronze medallist Ronnie Baker from the USA is looking to extend his unbeaten streak this indoor season after winning in Glasgow in 6.50 and Lievin in 6.44, the second fastest time in his career just 0.04 off his PB set in 2018. Baker will face his countryman Demek Kemp, who won in Boston and finished second in Lievin clocking the same time of 6.50 in both races, world 4x100 relay champion Mike Rodgers, Brandon Carnes and European Indoor champion Jan Volko from Slovakia, who clocked a seasonal best of 6.57 in Dusseldorf and Lievin, and Italy's Marcell Jacobs, who improved his indoor PB with 6.63 in Lievin.
World Indoor champion Andy Pozzi won all his three 60m hurdles races this year in Paris Bercy (7.52), Torun (7.53) and Glasgow (7.57) and starts as the favourite in Madrid against Kuwait's Yaqoub Mohamed Al Youha, who won in Dusseldorf and finished second in Lievin with 7.54, and Poland's Damian Czykier, who clocked 7.54 in 2020.

Reigning world outdoor champion Nia Ali will clash against world indoor silver medallist Christina Clemons in the women's 60 metres hurdles. Ali leads the World Indoor Tour standings with 27 points after finishing first in Boston and Lievin and second in Glasgow. Clemons won in Dusseldorf and finished second in Boston, Karlsruhe and Lievin.
World 5000m silver medallist Selemon Barega and Getnet Wale will clash for the second time this week after their close race in Lievin. Wale, Diamond League champion in the 3000m steeplechase in 2019, won in the French meeting setting the world seasonal best with 7:32.80. Barega set his PB in the 3000 metres clocking 7:33.19 in Lievin. The Ethiopian runner is the stand-out name in the men's 3000m in a line-up, which also features world indoor 3000m bronze medallist Bethwell Birgen, who won the 3000m races in Boston and Karlsruhe and the 1500m in Glasgow and currently leads the World Indoor Tour standings, 2019 world 5000m leader Telahun Bekele, and Barhein's Birhanu Balew, who set the Asian indoor record with 7:34.58.
Ethiopia's Gudaf Tsegay will be bidding to win her third 1500m race of the season after clocking 4:00.09 in Torun and 4:00.60 in Lievin. The other top names in the field are Lamlem Hail, who broke Tsegay's world under 20 record in Torun and Lievin.
World indoor champion Adam Kszczot aims at winning the World Indoor Tour standings in the men's 800 metres after his win in Glasgow with 1:46.34. The Polish middle distance runner will clash against Cornelius Tuwei (second in Glasgow and Lievin), Collins Kipruto (winner in Torun and Lievin) and world 1500m bronze medallist Marcin Lewandowski.
European 400m champion Justyna Swiety Ersetic leads the 400m standing with 24 points ahead of Lisanne De Witte (22 points) and will need a win to secure the $20000 bonus. The line-up also features European 400m hurdles champion Lea Sprunger from Switzerland, who finished second in Karlsruhe in 52.56.
European under 23 champion Konrad Bukowiecki leads the men's shot put field with 21.88m set in Ostrava. The Pole will clash against Tomas Stanek from Czech Republic, who won in Torun with 21.86m, European Under 23 silver medal Leonardo Fabbri, who broke Alessandro Andrei's Italian Indoor record with 21.59m in Stockolm and confirmed his form by winning in Sabadell with 21.44 on Wednesday, and Croatia's Filip Mihajevic, who won in Dusseldorf with the national indoor record of 21.52m.
Former world Indoor champion Konstadinos Filippidis will clash against 2019 European Indoor bronze medallist Melker Svard jacobsson in the men's pole vault.