Ethiopian Roza Dereje clocked an impressive 2:18:30 to win women's division at the 2019 Maraton Valencia Trinidad Alfonso on Sunday.
In the final stages of the race Dereje pulled away from her compatriot Azmera Abreha to clock the 8th fastest marathon time in history and to break Valencia course record by almost 3 minutes. Abreha, who finished finished in second place stopped the clock at 2:18:33, the 9th fastest time in history.
The 3rd, 4th and 5th place finishers Birhane Dibaba (Ethiopia), and Vivian Cheruiyot (Kenya) all broke 2-hour barrier.
The women's race set the records for most sub-2:19s with 4 women, most sub-2:20s (5), most sub-2:21s (7), and most sub-2:23s (9).
The men's race was no less impressive as the the women's with 10 runners runners finishing the reace inside 2 hours and 8 minutes and 30 men who ran faster than 2:12:00.
The 26-year-old mararhon debutant Kinde Alayew of Ethiopia cloked an impressive course record of 2:03:53.
Turkey's Kaan Kigen Ozbilen finished in 2nd place with a time of 2:04:16 smashing Mo Farah's European Record by almost a minute.
Guye Idemo Adola (Ethiopia) produced a massive personal best of 2:04:42 to take third place.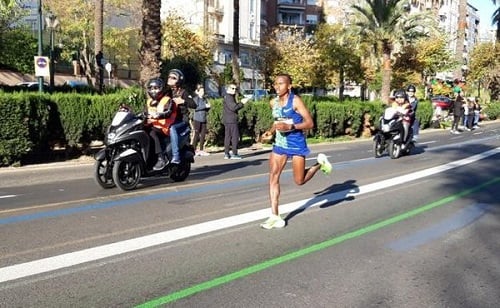 -->