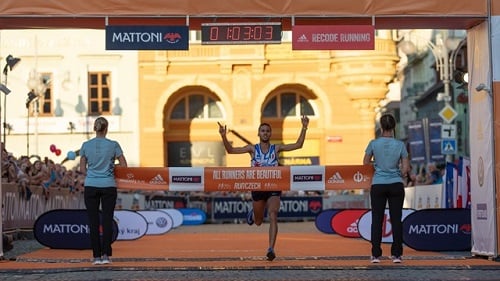 The 8th Mattoni České Budějovice Half Marathon, the fifth race of the RunCzech season 2019 awarded with the 5-stars certificate by European Athletic Association was dominated by the Italian Yassine Rachik. He won in the new European race record 1:03:02 and for the second time in fourteen days he dominated in the EuroHeroes series. The fastest woman was Lilia Fisikovici from Moldova, who also proved her victory from the last year in the time 1:13:29.
The 25-year-old Yassine Rachik ran alone from the fifth kilometer and set the pace to overcome the current European event record set by Briton Luke Traynor last year. He finally improved it by 38 seconds. Taking into account also the results of Mattoni Karlovy Vary Half Marathon Rachik is now leading in the EuroHeroes Challenge ranking with 2,220 points. "I feel in a very good form and I believe it will continue. I will appear at the next EuroHeroes race and I want to win again, "Rachik said confidently. The second finished Ukrainian Roman Romanenko (1:04:25) and immediately behind him Spanish Jaume Leiva Beato (1:04:37). Luke Traynor, the main favorite of the race, finished in tenth and lost over five minutes to the winner.
Lilia Fisikovici stayed with Ukrainian Daria Mykhailova and Giovanna Episo from Italy for a long time. In the end, she sped up and overtook all her rivals significantly. "I'm so glad I have won. I had the tactics to run for victory from the start, "Fisikovici said. She is now at the forefront of the EuroHeroes Challenge with 2,242 points and wants to perform another great result in Olomouc. The second came in Dariya Mykhailova (1:13:56) and another Ukrainian, Olga Skrypak (1:14:04) finished third.
The fastest Czechs were Vít Pavlišta among men (1:07:59) and Petra Pastorová among women (1:21:59).
The series of races dedicated exclusively to European elite athletes continued with triumphs and the future winners of EuroHeroes Challenge may already be clear. "We are excited about the results. We are still in the middle and a strong field will appear at other races, "said Václav Skřivánek, the race director of RunCzech races.
The EuroHeroes Challenge will be followed by the prestigious Mattoni Olomouc Half Marathon, the IAAF Road Race Gold Label, which will also celebrate its 10th anniversary. The last battle of European athletes will be at Mattoni Ústí nad Labem Half Marathon on September 21.
3,442 runners took part in Mattoni České Budějovice Half Marathon. Other 3,040 participants enjoyed the non-competitive dm family run held two hours earlier.
Results
Top 10 Men
1. Yassine Rachik | (ITA) | 1:03:02
2. Roman Romaněnko | (UKR) | 1:04:25
3. Jaume Leiva Beato | (ESP) | 1:04:37
4. Paul Pollock | (IRL) | 1:04:42
5. Mykola Iuchymchuk | (UKR) | 1:05:31
6. Mykola Nyzhnyk | (UKR) | 1:06:33
7. Igor Olefirenko | (UKR) | 1:06:57
8. Vít Pavlišta | (CZE) | 1:07:59
9. Stepan Hendtke | (GER) | 1:08:13
10. Luke Traynor | (GBR) | 1:08:27
Top 10 Women
1. Lilia Fisikovici | (MDA) | 1:13:29
2. Darija Mykhailova | (UKR) | 1:13:56
3. Olga Skrypak | (UKR) | 1:14:04
4. Giovanna Epis | (ITA) | 1:14:23
5. Nina Lauwert | (BEL) | 1:14:41
6. Olha Kotovska | (UKR) | 1:15:01
7. Volha Mazuronak | (BLR) | 1:18:11
8. Sarah Giomi | (ITA) | 1:19:57
9. Yulia Schmatenko | (UKR) | 1:20:50
10. Petra Pastorová | (CZE) | 1:21:59
EuroHeroes Challenge ranking after 2nd race
Top 5 Men
1. Yassine Rachik | (ITA) | 2 220 bodů
2. Roman Romaněnko | (UKR) | 2 171 bodů
3. Paul Pollock | (IRL) | 2 156 bodů
4. Mykola Iukhymchuk | (UKR) | 2 149 bodů
5. Jiří Csirik | (CZE) | 1 856 bodů
Top 5 Women
1. Lilia Fisikovici | (MLD) | 2 242 bodů
2. Olha Kotovska | (UKR) | 2 180 bodů
3. Olga Skrypak | (UKR) | 2 172 bodů
4. Yulia Schmatenko | (UKR) | 1 960 bodů
5. Petra Pastrovoá | (CZE) | 1 939 bodů
-->