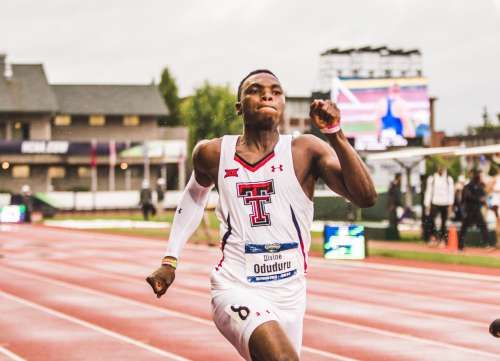 Divine Oduduru who runs for Texas Tech University ran an impressive 100m/200m double on Saturday night at the Michael Johnson Classicin Waco, Texas.
The 22-year-old Nigerian Oduduru posted the fastest time in the world this year in the 100m of 9.94 seconds beating his personal best time by 0.1 seconds. 
45 minutes later Oduduru returned to track and clocked another impressive time of 19.76 seconds inthe 200m which is the #2 all time and World lead in 2019.
100m top 10 Micheal Johnson Classic
1 Divine Oduduru JR Texas Tech 9.94
2 Andrew Hudson SR Texas Tech 10.13
3 Maxwell Willis JR Baylor 10.21
4 Kristoffer Hari SO Arkansas 10.26
5 Jace Comick JR Texas A&M 10.33
6 Jullane Walker JR Kansas State 10.36
7 Roy Ejiakuekwu SR Arkansas 10.37
8 Tarrik Brock Jr JR TCU 10.40
9 Keion Sutton JR Texas Tech 10.40
10 Dartez Hamlin SO Barton County CC 10.42
200m Top 10 Results Michael Johnson Classic
1 Divine Oduduru JR Texas Tech 19.76
2 Andrew Hudson SR Texas Tech 20.47
3 Maxwell Willis JR Baylor 20.71
4 Dartez Hamlin SO Barton County CC 20.89
5 Ian Braxton JR Baylor 20.93
6 Isaiah Cunningham SO Baylor 20.93
7 Tinotenda Matiyenga SO TCU 20.96
8 Avery Williams JR Abilene Christian 20.98
9 Jace Comick JR Texas A&M 21.10
10 Jalen Brown SO Arkansas 21.17