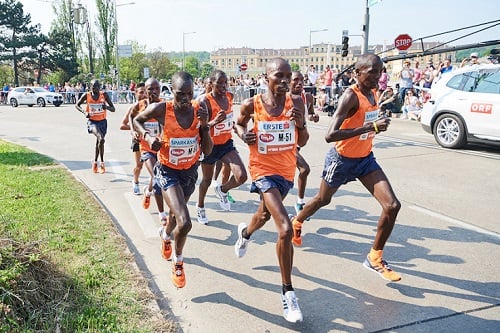 Switzerland's Tadesse Abraham and Kenya's defending champion Nancy Kiprop will face a tough challenge when they will try to achieve significant victories at the 36th edition of the Vienna City Marathon on 7th April. Abraham, who hopes to become the first European winner since 2001, is one of ten men on the start list with personal bests of sub 2:10. Meanwhile Kiprop could become the first woman to win Austria's biggest sporting event for the third time. On her way to a possible hat-trick the Kenyan will have to beat a field that includes five other athletes who have run sub 2:28 before. Including other running events staged parallel to the marathon organisers of the Vienna City Marathon expect more than 40,000 entries for their IAAF Gold Label Road Race event.
With a personal best of 2:06:40 Tadesse Abraham is not the fastest runner on the start list any more. This is because of the addition of Gilbert Kirwa to the field. The Kenyan, who ran 2:06:14 when he took the Frankfurt Marathon in 2009, has done very well at the Vienna City Marathon in the past. Ten years ago he took the unique debutants' only race in the Austrian capital with 2:08:21. In 2009 organisers allowed only debutants to compete in the elite races. Three years later Kirwa returned to Vienna, finishing fourth in 2:08:09.
Kirwa could not match these sort of performances in the past two years, so the strongest challenge for Eritrean-born Tadesse Abraham might come from four other Kenyans: Kenneth Keter ran a 2:07:34 debut in Frankfurt last October, Victor Kipchirchir won in Valencia in 2016 with 2:07:39, Robert Chemosin has a PB of 2:08:05 and is the Vienna City Marathon winner from 2016 while Raymond Choge took the Kosice Marathon last autumn with 2:08:11. While Uganda's Solomon Mutai (2:09:27) was the bronze medallist in the World Championships' marathon in 2015, Brimin Misoi could be in for a surprise: The Kenyan took the Athens Marathon in November, clocking a personal best of 2:10:56 on this hilly and very demanding course. On the flat course in Vienna Misoi should be able to run considerably faster.
Two women might well be locked into a battle for victory on 7th April: Nancy Kiprop and Rahma Tusa, whose personal bests are exactly one minute apart. Defending champion Kiprop, who goes for a hat-trick on 7th April, improved to 2:22:46 in Frankfurt last year. Tusa is the winner of last year's Rome Marathon. She took that race in a PB of 2:23:46.
Besides winning Kiprop has an eye on the course record as well. Italy's late Maura Viceconte, who tragically died earlier this year, established this mark back in 2000 when she ran 2:23:47. Nancy Kiprop came close to the record in 2017 and 2018 with winning times of 2:24:20 and 2:24:18 respectively. On both occasions the weather conditions were not favorable for fast times with strong winds in 2017 and then high temperatures last year. "Defending my title and setting a course record is what I wish for and hope to achieve," said Nancy Kiprop.
Angela Tanui is an athlete who could challenge Kiprop and Tusa in Vienna. The Kenyan set her personal best of 2:26:31 in the Austrian capital two years ago when she finished fifth. Tanui showed fine form recently when she won the Napoli Half Marathon with 69:53.
Selected elite runners with personal bests
Men:
Gilbert Kirwa KEN 2:06:14
Tadesse Abraham SUI 2:06:40
Kenneth Keter KEN 2:07:34
Victor Kipchirchir KEN 2:07:39
Robert Chemosin KEN 2:08:05
Raymond Choge KEN 2:08:11
Abraham Kiplimo UGA 2:09:23
Henry Chirchir KEN 2:09:24
Solomon Mutai UGA 2:09:27
Birhanu Addisie ETH 2:09:27
Vincent Kipchumba KEN 2:10:32
Vincent Yator KEN 2:10:38
Brimin Misoi KEN 2:10:56
Blazey Brzezinski POL 2:11:27
Fernando Cabada USA 2:11:36
Women:
Nancy Kiprop KEN 2:22:46
Rahma Tusa ETH 2:23:46
Angela Tanui KEN 2:26:31
Maja Neuenschwander SUI 2:26:49
Maurine Chepkemoi KEN 2:27:12
Milliam Ebongon KEN 2:27:16
Caterina Ribeiro POR 2:30:10
For more information please visit: www.vienna-marathon.com or contact Andreas Maier (Press Officer): [email protected].
Photo credit: Vienna City Marathon / Leo Hagen