Despite the wind and cold temperatures, Bahrain's Mimi Belete broke Toronto Waterfront Marathon course record with a massive personal best time of 2:22:28 on Sunday, 21 October.
Ethiopian born Belete shaved more than three minutes from her old personal best to beat last year's champion Marta Megra of Ethiopia, who finished second also with a new PB of 2:22:34. Meanwhile, Ruth Chebitok of Kenya concluded the podium in 2:23:28.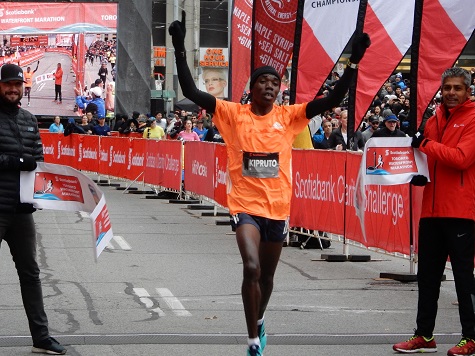 The men's race took Benson Kipruto of Kenya who clocked 2:07:24. Tanzania's Augustino Sulle, who finished in 2:07:45 claimed second place with Kenya's Felix Kandie in 3rd in 2:08:28.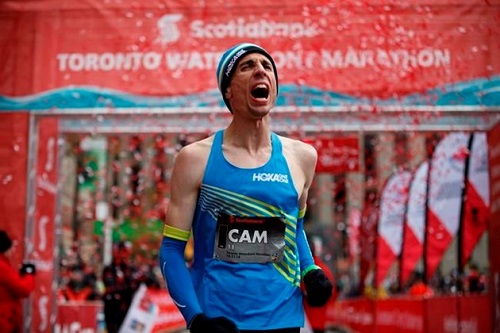 Canadian marathon Cameron Levins in his marathon debut smashed the 43-year-old Canadian marathon record. Levins finished in 5th place with a time of 2:09:22 breaking Jerome Drayton 's national record of 2:10:09 in the process. Levins record comes with a $43,000 reward; $1,000 for every year the record has stood.
TOP RESULTS MEN
1. Benson Kipruto KEN 02:07:24.0
2. Augustino Sulle TZA 02:07:45.9
3. Felix Kandie KEN 02:08:29.5
4. Cameron Levins CAN 02:09:24.9
5. Jake Robertson NZL 02:09:51.2
6. Daniel Teklebrhan USA 02:10:02.4
7. Stephen Kiprotich UGA 02:11:06.0
8. Anthony Maritim KEN 02:13:06.5
9. Philemon Rono KEN 02:13:36.6
10. Reid Coolsaet CAN 02:17:36.2
TOP RESULTS WOMEN
1. Mimi Belete BHR 02:22:28.9
2. Marta Megra ETH 02:22:34.5
3. Ruth Chebitok KEN 02:23:28.7
4. Jessica Trengove AUS 02:25:58.8
5. Celestine Chepchirchir 02:26:57.3
6. Amane Beriso ETH 02:28:55.1
7. Kinsey Middleton CAN 02:32:09.0
8. Helen Davies GBR 02:35:11.2
9.Leslie Sexton CAN 02:36:02.7
10. Krista Duchene CAN 02:36:46.0