• Dino Sefir challenges world record holder Dennis Kimetto in Vienna

Posted by:
Watch Athletics
Tuesday, 10 April 2018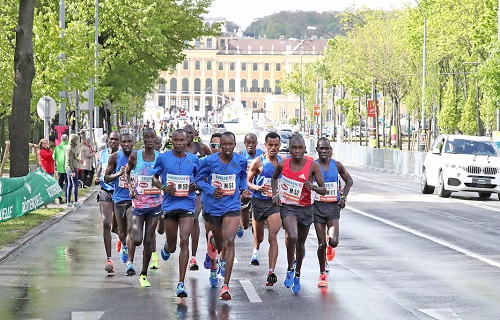 World record holder Dennis Kimetto will face some strong challengers at the Vienna City Marathon on 22nd April. The Kenyan, who established the current global record in Berlin in 2014 with 2:02:57, hopes for a successful comeback in Vienna after a series of injury problems. Among his rivals in Austria's biggest one-day sporting event are Ethiopia's Dino Sefir and Ishmael Bushendich of Kenya, who missed out on victory in last year's race by just two seconds. A total of seven runners on the start list feature personal bests of sub 2:10. The Vienna City Marathon is an IAAF Gold Label Road Race.

Behind Dennis Kimetto it is Dino Sefir who has the second fastest personal best in the field. The 29 year-old smashed his PB in Dubai in 2012 when he was second with a world-class time of 2:04:50. A year earlier he had improved significantly in the half marathon when he clocked 59:42. While he could not match these sort of times in the following years he showed good consistency on a fine level. In four marathons Dino Sefir clocked times between 2:08 and 2:09, winning in Barcelona as well as in Ottawa two years ago. Additionally he was eighth in the high-class 2017 Boston-Marathon.

Returning to Vienna is the runner-up from last year: Ishmael Bushendich was involved in the closest race ever in the history of the Vienna City Marathon, which will see its 35th edition next week. With a time of 2:08:42 he crossed the line just behind fellow-Kenyan Albert Korir. While he knows the course in Vienna he probably returns with increased confidence after taking the Lisbon Marathon last autumn with 2:10:51. The 26 year-old has already won five marathon races during his career: Enschede and La Rochelle in 2012, Ljubljana in 2014, Toronto in 2015 and Lisbon last October.

Another contender who won a marathon last year is Abrah Milaw. The 30 year-old Ethiopian took the race in Stockholm with 2:11:36. Milaw features a personal best of 2:07:46 from Dubai 2014. Samwel Maswai ran his debut marathon in Vienna back in 2009 and then improved to 2:08:52 in Berlin four years later. While he will return to the Austrian capital it will be a first start at the Vienna City Marathon for Dominic Ruto and Birhanu Addisie. Ruto ran his first sub 2:10 time in Rome two years ago when he was third with 2:09:28. A year ago the Kenyan returned to the race and improved to 2:09:08, this time finishing as the runner-up. Now he decided that it was time for a change and opted for the Vienna City Marathon as his major spring race. Ethiopia's Addisie ran his current PB of 2:09:27 when he finished second in Rome two years ago, beating Ruto by just one second.

For more information please visit: www.vienna-marathon.com or contact Andreas Maier (Press Officer): andreas.maier@vienna-marathon. com

Credit essential: www.photorun.net