• Hopes Bright for Future of Athens Marathon
» Monday, 13 November 2017

Article source: Watch Athletics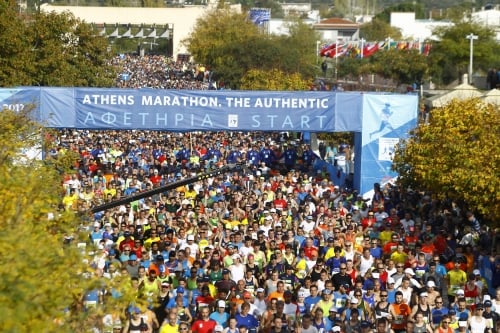 As the organisers of the Athens Marathon. The Authentic look back on a record entry of 18,500 runners on Sunday for the 35th edition of their historic race, they are also looking to the future. In recent years the economic problems besetting Greece have had their impact on the race but, like Pheidippides of ancient legend and present-day marathon runners, they kept going. Now, as Kostas Panagopoulos, president of SEGAS, the Hellenic Athletics Federation, explained, they see a bright future on the horizon: "We believe that the Authentic Marathon has the right to host many more runners. In order to do so, we ask for the support of the Greek government. We need the State to build a new start for the Athens Marathon."
Future participants in the race from the town of Marathon to the 1896 Olympic Stadium should not fear that this proposal would reduce the historical significance of the race. The event has grown in popularity among spectators as well, with a record attendance of more than 100,000 along the route. In contrast to former times the Greeks are now embracing the event and recognize it more and more as one of their main sports events. While ten years ago they would argue angrily with police when they could not cross the course to get to the beach in the Marathon area they are now watching the race, cheering on the runners.
Kostas Panagopoulos says that an improved starting area in Marathon would create a new level of capacity: "We believe that in years to come, we will be able to host many more on the original course, probably more than 25,000. But we need to have the facilities to service them in the proper way."
It is not only mass runners who sense something special about visiting Athens and setting foot on the course which brought the marathon to life for the modern era. Mary Keitany received the AIMS Best Marathon Runner of the Year award on Friday in Athens and spoke of her desire to run the race one day: "I can say that Athens is a nice city and I know the course. It is similar to New York, so I think I would like to come and try it, to taste how it is."
The women's World Marathon champion, Rose Chelimo of Bahrain, is already one step ahead of her Kenyan rival in that respect. Two days after finishing runner-up to Keitany in the AIMS awards for 2017, she ran and won a 5km race held on the Athens Marathon course, commenting: "I really enjoyed running here." Of course, "enjoyment" might be qualified by other comments once any runner, elite or otherwise, has experienced the challenge of the undulating course from Marathon to the marble Panathenaic Stadium in central Athens.
The SEGAS president sees the economic situation as improving, gradually, for Greece in general. Kostas Panagopoulos is confident that the race will continue in its present form, given the support of the event sponsors, but that government funds will make a crucial difference: "It's a matter of priority. The government has, even now, the money to support our plan."
If the Greek State can add its financial muscle to the Athens Marathon, many more runners, elite or simply those wishing to fulfil a dream of running in the footsteps of Pheidippides, will have the chance to reflect as Sunday's runner-up, Milton Rotich did: "When I came here I heard about the race's history and I was so excited. I felt it was something extraordinary for me to run here."
More information is available at: www.athensauthenticmarathon. org

Photo credit: SEGAS-AMA