Mo Farah and Mary Keitany Take Great North Run Titles

Posted by:
Watch Athletics
Sunday, 10 September 2017


Great Britain's Mo Farah and Kenya's Merry Keitany won the 2017 Great North Run titles on Sunday, September 10 in Newcastle Gateshead.
The four time Olympic champion Farah clocked 60:06 minutes in the half marathon to defeat New Zealand's Jake Robertson by six seconds and to win the Great North Run for record four consecutive year. Third place in the men's race took Ethiopia's Feyisa Lilesa.
"That was really tough. I'm sore everywhere. I've never been this sore. I think it's down to a lack of training!
"It was telling. With four miles to go, I was hanging on and gritting my teeth. I was thinking if I can just sit on him, then at the end, I can sprint. It's nice to win my fourth time here. You get great support and I'm really enjoying myself." Farah told BBC Sports.
Farah also revealed that he will run at 2018 London Marathon on April 22.
"I am taking part in the London Marathon in April. That's the next big one for me." he said.
The women's race was won by Marry Keitany, the women-only world marathon record holder, who crossed the line in a very fast time of 65:59 minutes. The second place took former 5000m Olympic champion Vivian Cheruiyot of Kenya with 67:44 as her teammate Caroline Chepcoech concluded the podium podium with 69:52 minutes.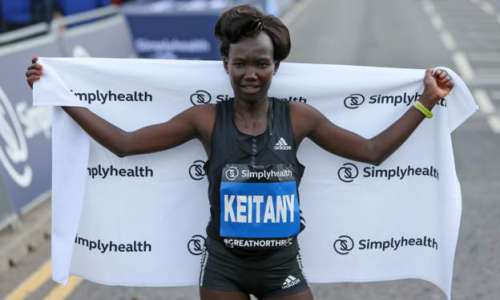 More than 43 thousand people took part at the 2017 Great North Run.
Image Source: BBC Sports
Top Results
Elite Men (Half Marathon)
1. MO FARAH 1:00:06
2. JAKE ROBERTSON 1:00:12
3. FEYISA LILESA 1:01:32
4. ZANE ROBERTSON 1:01:42
5. HIROYUKI YAMAMOTO 1:02:03
6. DATHAN RITZENHEIN 1:02:49
7. DEWI GRIFFITHS 1:02:53
8. BERNARD LAGAT 1:03:02
9. TSEGAI TEWELDE 1:03:14
10. KOEN NAERT 1:03:29
Elite Women (Half Marathon)
1. MARY KEITANY 1:05:59
2. VIVIAN CHERUIYOT 1:07:44
3. CAROLINE CHEPKOECH KIPKIRUI 1:09:52
4. MAGDALYNE MASAI 1:10:39
5. BETSY SAINA 1:11:25
6. GEMMA STEEL 1:11:32
7. LILY PARTRIDGE 1:12:10
8. ALYSON DIXON 1:12:29
9. CARYL JONES 1:14:22
10. REBECCA MURRAY 1:15:49
-->