Turkey's Ramil Guliyev produced a shock victory in the men's 200m final at World Athletics Championships in London on Thursday.
Azerbaijani-born naturalized Turkish sprinter Ramil Gulyev beat 2-time world 400m champion Wayde Van Niekerk by 0.02 seconds to claim the global 200m title in 20.09sec, the slowest winning time in 14 years. 
"This is not a shock but this does not feel real. I am so proud. This title means a lot." said Gulyev who had wrapped himself in Azerbaijani and Turkish flags while celebrating his victory lap. 
"It was really a massive roller-coaster for me, this competition," said an emotional Van Niekerk afterwards. "I didn't just celebrate the medal I got tonight, it was more a celebration of the competition overall. Coming away with two medals - both a good colour, gold and silver. I think it's great for my career and another moment to be grateful for." Wayde Van Niekerk told BBC reporters. 
In the battle for bronze medal Jereem Richards of Trinidad and Tobago defeated Great Britain's Nethaneel Mitchell-Blake by 0.001 seconds.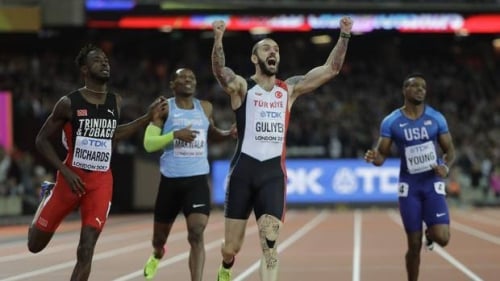 Results Men's 200m Final 
1 Ramil GULIYEV TUR 20.09
2 Wayde VAN NIEKERK RSA 20.11 .106
3 Jereem RICHARDS TTO 20.11 .107
4 Nethaneel MITCHELL-BLAKE GBR 20.24
5 Ameer WEBB USA 20.26
6 Isaac MAKWALA BOT 20.44
7 Abdul Hakim SANI BROWN JPN 20.63
8 Isiah YOUNG USA 20.64