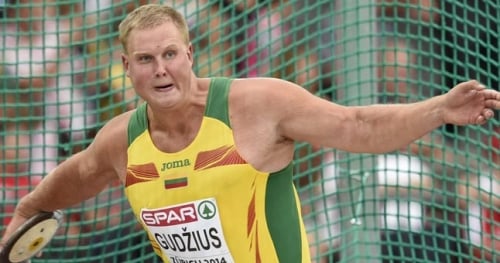 Andrius Gudzius of Lithuania narrowly defeated Sweden's Daniel Stahl to claim the World championships discus throw title on Saturday, August 5.
The 26-year-old Lithuanian discus thrower, Gudzius, opened his series with a decent 67.52m performance to take an early lead.
After fouling in the opening round, in round two, Daniel Stahl produced a massive throw of 69.19m and became the leader. Stahl's lead lasted for a very short period of time as Gudzius responded with his gold winning throw of 69.21m.  Stahl with his 69.19m performance remained in silver position as Amercian Mason Finley concluded the podium with 68.03m throw.
"Daniel is the best this season but at every competition we start from zero," Gudzis said.
"It was a drama but I was lucky to beat him by these two centimeters." he added. 
Men's long jump was the second field event final on day 2 at the 2017 World Athletics championships. 
South African athletes Luvo Manyonga and Ruswahl Samaai celebrated gold and bronze medals in the men's long jump final.
Manyonga, who returned to competition last year after overcoming a drug addiction, took the global gold with a leap of 8.48 metres.
"This gold medal makes me feel over the moon. I have been praying to get this gold medal," Manyonga said. 
"The world record is my next goal. Ruswahl and me are pushing each other through the events. I am the best in the world - this sounds great." he added. 
American Jarrion Lawson jumped a season's best 8.44 in the final round to claim silver.
Ruswahl Samaai, the bronze medallist in the event at the 2014 Commonwealth Games, jumped  8.32m to win the bronze medal. 
Men's Discus Thorw Final Results
1. Andrius GUDŽIUS LTU 69.21 PB
2. Daniel STÅHL SWE 69.19
3. Mason FINLEY USA 68.03 PB
4. Fedrick DACRES JAM 65.83
5. Piotr MALACHOWSKI POL65.24
6. Robert HARTING GER 65.10
7. Robert URBANEKPOL 64.15
8. Traves SMIKLE JAM 64.04
9. Lukas WEISSHAIDINGER AUT 63.76
10. Apostolos PARELLIS CYP63.17
11. Simon PETTERSSON SWE 60.39
12. Gerd KANTER EST 60.00
Men's Long Jump Final Results
1. Luvo MANYONGA RSA 8.48m +0.4m/s
2. Jarrion LAWSON USA 8.44m SB +0.6m/s
3. Ruswahl SAMAAI RSA 8.32m -0.1m/s
4. Aleksandr MENKOV ANA 8.27m 0.0m/s
5. Maykel MASSÓ CUB 8.26m +0.8m/s
6. Yuhao SHI CHN 8.23m -0.3m/s
7. Jianan WANG CHN 8.23m +0.6m/s
8. Michel TORNÉUS SWE 8.18m +0.4m/s