image: The Guardian
History's one of the greatest distance runners of all time, Mo Farah, won the men's 10000m at the 2017 World Championships in London on Friday night.
In front of 80,000 spectators, the 33-year-old Farah, who five years ago in the same stadium celebrated his first Olympic gold, produced a fantastic race to win his 10th global title with a new World leading time of 26:49.51.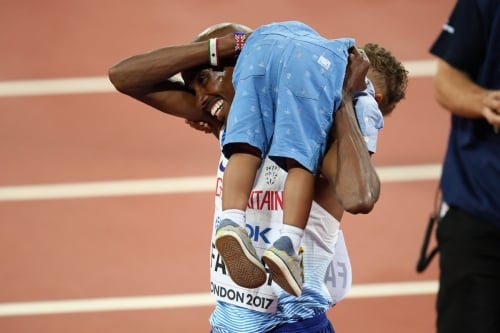 image: twitter.com
"It makes me proud to be British. It's been a long journey, it's been incredible," said Farah who celebrated his victory lap with kids and family.
"It's been hard but I'm just mentally strong I guess." he added.
Uganda's Joshua Cheptegei, who took silver, clocked a massive personal best time of 26:49.51. Cheptegei, who finshed 6th last year in Rio will turn only 21 next month.
Paul Tanui of Kenya won the bronze medal with a time of 26:50.60.
Men's 10000m Final Results
1 Mohamed FARAH GBR 26:49.51 WL
2 Joshua Kiprui CHEPTEGEI UGA 26:49.94 PB
3 Paul Kipngetich TANUI KEN 26:50.60 SB
4 Bedan Karoki MUCHIRI KEN 26:52.12 PB
5 Jemal YIMER ETH 26:56.11 PB
6 Geoffrey Kipsang KAMWOROR KEN 26:57.77 SB
7 Abadi HADIS ETH 26:59.19 SB
8 Mohammed AHMED CAN 27:02.35 NR
9 Shadrack KIPCHIRCHIR USA 27:07.55 PB
10 Andamlak BELIHU ETH 27:08.94 PB
11 Aron KIFLE ERI ERI 27:09.92 PB
12 Abraham Naibei CHEROBEN BRN 27:11.08 NR
13 Leonard Essau KORIR USA 27:20.18 PB
14 Timothy TOROITICH UGA 27:21.09 PB
15 Hassan MEAD USA 27:32.49 PB
16 Zane ROBERTSON NZL 27:48.59 SB
17 Hiskel TEWELDE ERI 27:49.62 SB
18 Moses Martin KURONG UGA 27:50.71
19 Onesphore NZIKWINKUNDA BDI 28:09.98 PB
20 Stephen MOKOKA RSA 28:14.67 SB
21 Bayron PIEDRA ECU 28:50.72 SB
22 Patrick TIERNAN AUS 29:23.72
Nguse AMLOSOM ERI DNF
Polat Kemboi ARIKAN TUR DNF