Triple Rio Olympic Games medalist Andre de Grasse successefuly complete a sproint double at the 2017 Canadian track and field national championships on Sunday, July 9 in Ottawa.
On Sunday infront of 5000 spectators, De Grasse sprinted to a wind-assisted 19.96sec to claim his first Canadian men's 200-metre title, beating Brendon Rodney (20.02) and Aaron Brown (20.13) into second and third place respectively.  On Friday De Grasse bagged his third straight Canadian 100m title.
"I'm happy about it" De Grasse told CBC after the race. 
"The time wasn't fast. I know I have to go faster at the worlds. In order for me to win, I probably have to break my Canadian record (19.80), so I'm looking forward to that." he added. 
 Crystal Emmanuel was the best female sprinter at the Canadian championships. On Sunday the 25-year-old Emmanuel won the 200m final in 22.55, following up on her 11.20sec 100m win on Friday.
Full Results here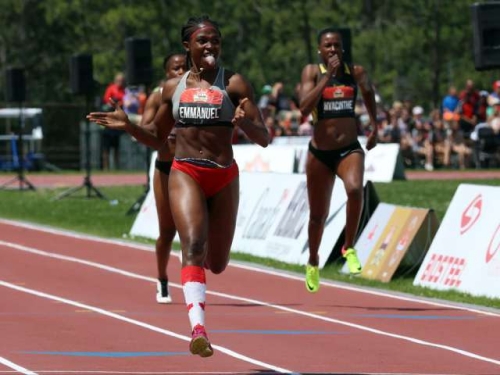 Men's 200m Final Results Wind +2.7m/s
 1  De Grasse, Andre 

	

19.96
 2  Rodney, Brendon  

	

20.02
 3  Brown, Aaron  

	

20.13
 4  Linde, James     

	

20.64
 5  Smellie, Gavin   

	

20.73
 6  Bramwell, Drelan    21.04
 7  Ajomale, Mobolade   21.26
 8  Robinson, Lucanus   21.52  
Women's 200m Final Results wind 2.8m/s
 1  2372 Emmanuel, Crystal    22.55
 2  2797 McDonald, Natassha   23.21
 3  2178 Buchanan, Leya       23.22
 4  2565 Jacques, Farah       23.80
 5  2789 Maxwell, Nyoka       23.91
 6  2553 Hyacinthe, Kimberl   24.06
 7  3257 Westney, Jellisa     24.24