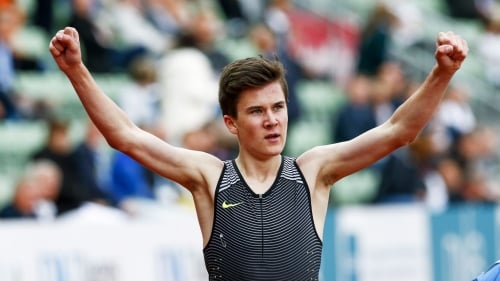 Norway's 16-years-old Jakob Ingebrigtsen became the youngest runner in history to break 4 minutes in the mile at the Eugene Diamond League, better known as Prefontaine Classic, on Saturday, May 26.
Jakob Ingebrigtsen clocked an impressive  3:58.07 to place 11th in the men's International mile to become the youngest sub-4-minute miler in history. 
The IIngebrigtsen brothers put their names in the record book as they became the first and only brothers to break 4 minutes in the mile on the same day at the same meet. The oldest brother Herik, who raced Jakob in the International Mile took third with 3:53.79,  meanwhile Filip competed  in the legendary Bowerman Mile and placed 8th with a new PB of 3:53.23. 
International Mile
1  Thiago DO ROSARIO ANDRE	BRA	3:51.99						
2  Chris O'HARE			GBR	3:53.34						
3  Henrik INGEBRIGTSEN		NOR	3:53.79						
4  Jakub HOLUSA			CZE	3:53.97						
5  Faoud EL KAAM		MOR	3:54.39						
6  Luke MATHEWS			AUS	3:54.53						
7  Andrew WHEATING		USA	3:55.23						
8  Lopez LOMONG			USA	3:55.67						
9 Charles PHILIBERT-THIBOUTOT	CAN	3:55.83						
10 Cristian SORATOS		USA	3:56.68						
11 Jakob INGEBRIGTSEN		NOR	3:58.07						
12 Matthew RAMSDEN		AUS	3:59.80						
13 David PRINCIPE		USA	4:00.73						
14 John GREGOREK		USA	4:03.27						
   Patrick CASEY		USA	DNF						
   Harun ABDA			USA	DNF
Bowerman Mile

1  Ronald KWEMOI		KEN	3:49.04						
2  Elijah Motonei MANANGOI	KEN	3:49.08						
3  Timothy CHERUYIOT		KEN	3:49.64						
4  Vincent KIBET		KEN	3:51.17						
5  Clayton MURPHY		USA	3:51.99						
6  Abdelaati IGUIDER		MOR	3:52.77						
7  Ben BLANKENSHIP		USA	3:53.04						
8  Filip INGEBRIGTSEN		NOR	3:53.23						
9  Bethwell BIRGEN		KEN	3:53.50						
10 Charlie GRICE		GBR	3:53.62						
11 Ryan GREGSON			AUS	3:56.90						
12 Silas KIPLAGAT		KEN	3:57.59						
13 Asbel KIPROP			KEN	3:58.24						
   Ayanleh SOULEIMAN		DJI	DNF						
   Elijah KIPCHIRCHIR		KEN	DNF						
   Andrew ROTICH		KEN	DNF