Kenya's Celliphine Chespol, who celebrated her 18th birthday in March smashed the world Junior record in Steeplechase on Friday night at Prefontaine Classic in Eugene, Oregon. 
What makes her time and win even more impressive, is that Chespol about 1KM to go at the water pit lost her shoe.  The accident did not confuse the Kenyan athlete as she quickly put her right shoe back and chased down the leaders and 200m to go she passed the race leader Beatrice Chepkoech to break the tape in an impressive 8:58.78.   Chespol became the third athlete in history to run the 3000 steeple under 9 minutes. 
Beatrice Chepkoech who thought the win was hers, finished in second in 9:00.70 as World record holder and Olympic champion Ruth Jebet came in third in 9:03.52.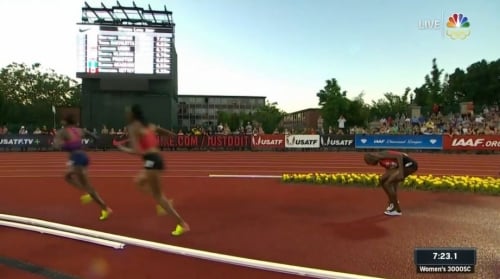 Results: Women's 3000m Steeplechase
1. KEN	CHESPOL, Celliphine Chepteek	8:58.78
2. KEN	CHEPKOECH, Beatrice		9:00.70
3. BRN	JEBET, Ruth			9:03.52
4. USA	COBURN, Emma			9:07.96
5. USA	FRERICHS, Courtney		9:19.09
6. KEN	KIRUI, Purity			9:20.07
7. GER	KRAUSE, Gesa Felicitas		9:20.32
8. USA	GARCIA, Stephanie		9:25.04
9. CAN	LALONDE, Geneviève		9:33.95
10. USA	LAWRENCE, Mel			9:39.32
11. KEN	TUIGONG, Caroline		DNF