• Björn Otto Opens Season on Wednesday
» Tuesday, 29 January 2013
Article source: Athletics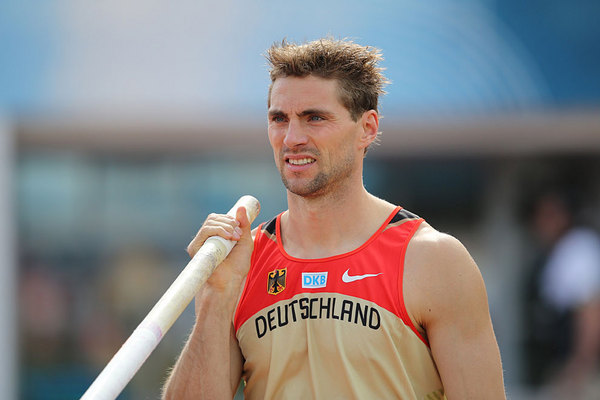 The 2012 London Olympics silver medalist and European championship runner up in Pole Vault Bjorn Otto from Germany will kick off his 2013 season at the 11th International Indoor Springer Meeting in Cottbus, Germany, on January (30).
In Cottbus men will participate in pole vault, while women will compete in high jump event.
Bjorn Otto, who had the best mark of (6.01m) in the 2012 season in the world, is looking forward for a great indoor season opener. Last year, Otto in a thrilling competition, was defeated twice first in European Chmapionships and later at the London Olympic games, by Frenchman Renaud Lavillenie.
Alongside Otto there will be London Olympics 5th place finisher Steven Lewis (GBR), world indoor silver medallist Alhaji Jeng (SWE), and Polands Lukasz Michalski who was the finalist in London. The 29-year-old Ukraines Markus Mazuryk who took silver at the 2010 European Champs must be respected also. The meet record, of 5.86m was set in 2011 by the London Olympic champ Renaud Lavillenie.
In the womens competition, the meet record holder (2.01m) Irina Gordeyeva of Russia is returning for the third streight year to compete in Cottbus. The 25 year old Russian who holds and impressive 2.04m personal best mark took bronze at the European Championships last year.
The International springer meeting Cottbus is scheduled for Wednesday, January 30th.
Elite Athletes
Mens Pole Vault
| | Name | | DOB | Nation / Club | Personal best outdoor / indoor |
| --- | --- | --- | --- | --- | --- |
| | Otto | Björn | 1977 | ASV Cologne | 6.01m / 5.92m |
| | Lewis | Steven | 1986 | GBR | 5.77m / 5.82m |
| | Dilla | Karsten | 1989 | TSV Bayer Leverkusen | 5.72m / 5.73m |
| | Michalski | Lukasz | 1988 | POL | 5.85m / 5.72m |
| | Gruber | Henryk | 1986 | TSV Bayer Leverkusen | 5.70m / 5.70m |
| | Scherbarth | Tobias | 1985 | TSV Bayer Leverkusen | 5.71m / 5.76m |
| | Jeng | Alhaji | 1981 | SWE | 5.80m / 5.81m |
| | Mazuryk | Maksim | 1983 | UKR | 5.82m / 5.88m |
Womens High Jump
| | Name | | DOB | Nation / Club | Personal best outdoor / indoor |
| --- | --- | --- | --- | --- | --- |
| | Gordeyeva | Irina | 1986 | RUS | 2.04m / 2.01m |
| | Petre | Esthere | 1990 | ROM | 1.98m / 1.94m |
| | Ogrodnik | Magdalena | 1989 | POL | 1.86m / 1.92m |
| | Mikolajczyk | Izabella | 1990 | POL | 1.92m / 1.81m |
| | Dusanova | Nadiya | 1987 | UZB | 1.98m / 1.96m |
| | Van Hessche | Hanne | 1991 | BEL | 1.87m / 1.88m |
| | Ilieva | Irina | 1995 | RUS | 1.85m |
| | Simic | Ana | 1990 | CRO | 1.92m / 1.92m |