• Murer and Lavillenie Prevail in Reno
» Sunday, 20 January 2013
Article source: Athletics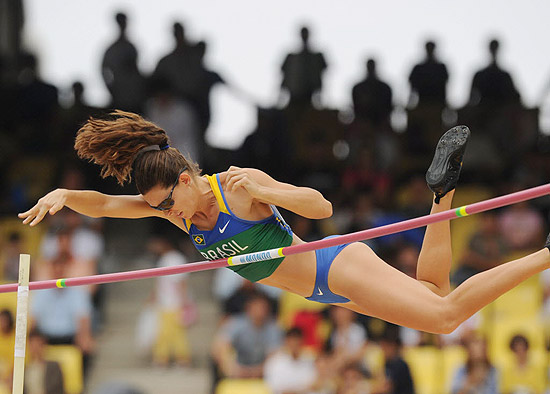 The 2013 National Pole Vault Summit elite competition took place in Reno, Nevada on January (18). As expected, the mens competition was won by Franch Pole Vault super star Renaud Lavillenie. The 2012 Olympic and European champion, Lavillenie, added to his seaon best mark 6 cm to win the event with a vault of 5.86m.
The second place took South American indooor and outdoor record holder Fabio Da Silva of Brazil, who managed to clear 5.60m. His mark was only 5 cm short oh his own South American Pole Vault indoor record that he set in 2011 in Austria.
The Pole Vault Summit mens podium concluded Japanese Pole Vaulter Daichi Savano, took third. The 2-time Asian champion and world cahmpionship finalist in Helsinki and Berlin cleared 5.50m.
The womens competiton, with an absence of the London Olympic champion Jenn Suhr, won Brazilian Pole Vault star Fabiana Murer. The reigning world champion openned up her indoor season with a solid 4.60m mark. Second place with a mark of 4.40m took Mary Saxer of (USA).
The event continues today with Open, College, Highscool and Beginners pole vault competition.
Mens Elite Results
First Name
Last Name
Organization
Best Height
Place
Renaud
Lavillenie
France
5. 86
1
Fabio
Gomez da Silva
Brazil
5 .60
2
Daichi
Sawano
Japan
5. 50
3
Jordan
Scott
Vault United
5. 50
4
Jack
Whitt
ORU
5.35
5
Rens
Blom
5.35
6
Mark
Hollis
5.35
7
Scott
Roth
5. 20
8
Trey
Hardee
Nike
5. 20
9
Chris
Swanson
5. 20
10
Steve
Lewis
UK
NH


Womens Elite Results
First Name
Last Name
Organization
Best Height
Place
Fabiana
Murer
4. 60
1
Mary
Saxer
4. 40
2
Kylie
Hutson
4. 40
3
Katy
Viuf
4. 40
3
April
Kubishta
4. 40
5
Katerina
Stefanidis
4.25
6
Tori
Pena
4.25
7
Becky
Holliday
4.25
7
Melissa
Gergel
4.25
9
April
Steiner-Bennet
4. 10
10
Brysun
Stately
NH