• Centrovitz, Martinez Win 5th Avenue Mile
» Sunday, 23 September 2012
Article source: Athletics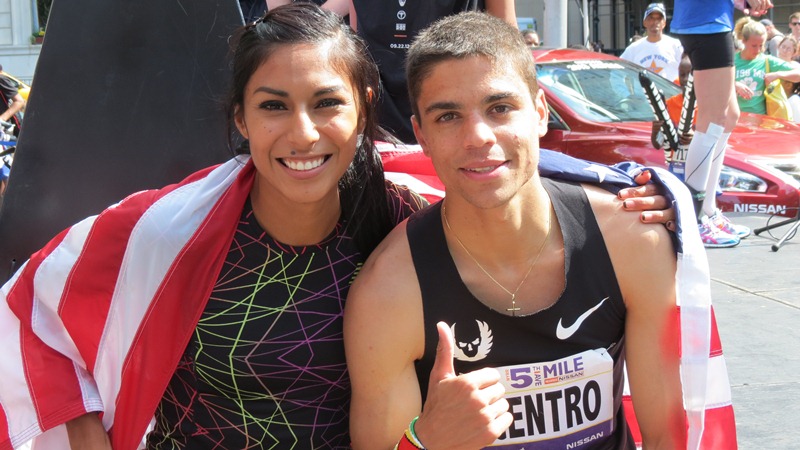 NEW YORK (22-Sep) -- Both Matthew Centrowitz and Brenda Martinez knew that the surge to the finish at todays NYRR Fifth Avenue Mile presented by Nissan here was going to happen late, it was just a matter of timing their breaks right.
In his first road race in his career, World bronze medallist from Daegu in 1500m, Centrowitz outkicked defending 5th avenue mile champion Bernard Lagat and Olympic silver medalist Leo Manzano to win the men's.
"Being my first road mile, I didn't really feel comfortable the whole way," Centrowtiz said. "It's hard to settle in these kinds of races. There is no doubt about it, I was definitely keying off Bernard. Early on, I tried sitting off his shoulder a little bit. I knew that late in the race someone was going to make a strong push. They weren't going to leave it to inside the last 100. It ended up being Bernard and I just went when I felt like it was right."
Centrowitz told media.
Brenda Martinez took the lead 200 meters into the race to take the women's title in the 32nd second edition of the world's most prestigious road mile.
"My plan was to really come out and be the last one to kick, but I kind of got mixed up," he said. "With 200 meters to go, I really gave it a good push. I guess any time that you run a straight mile it is really easy to get excited and carried away. You have the markers but the finish line looks like it is right there. It seems a lot closer so it inspires you to really get after it."
To see Pro Race Results Click here