• Felix defends her decision to run 100m
» Thursday, 02 August 2012
Article source: Athletics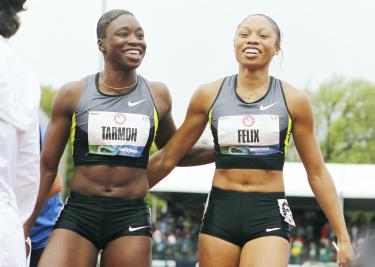 Allyson Felix explained her decision not to step away an give her training partner Jeneba Tarmoh a place in the 100 meters at the London Olympics. In June both Felix and Tarmoh crossed the line in 11.068 sec in 100m at the US Olympic trials for the final spot for London. Later both where given a chance to run a dead race but Tamroh denied it and automaticaly Felix gained the spot in the team. The controversy in the 100m overshadowed the entire trials, because USATF had no protocol in place to deal with a dead heat.
"Everyone just expected me to give up this spot, because I think lots of people ... know me, and they know that I'm seen as this very nice girl," .
"But it's not just about me. It's about Bobby Kersee and the time he invested in me. It's about my parentsand the sacrifices they made, my brother and the agents that are working with me, and just everyone who's invested their time in me." Felix explained to AP.
Felix will now race in both the 100m and 200m in London. Tarmoh did not qualify in the 200m, but is eligible to run in the 400m relay.
Photo:http://www.taipeitimes.com